This simple, delicious and satisfying soup is a great lunchtime treat.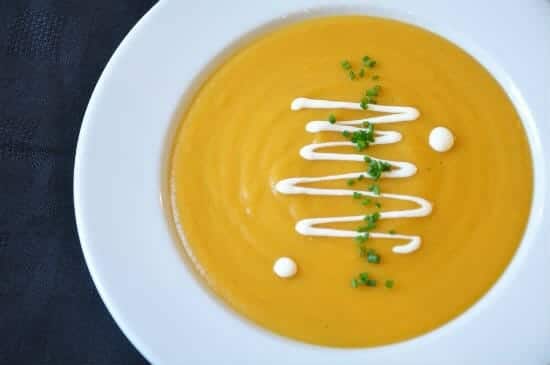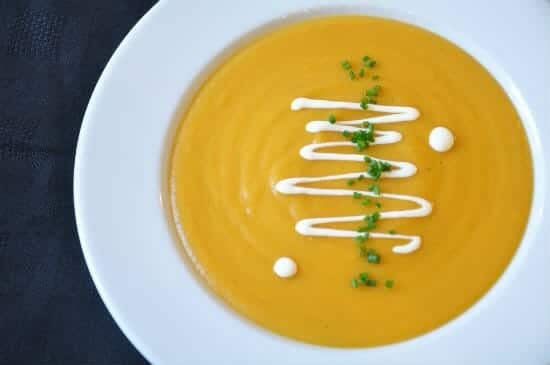 Ingredients:
Carrots – 250 gms, sliced
Lemongrass – 1 to 2, lightly crushed
White Onion – 1, medium, finely chopped
Garlic – 1/2 tsp, finely chopped
Ginger – 1 1/2 tsp, grated
Red Chilli – 1, small, chopped, seeds removed
Garam Masala Powder – 1/2 tsp (adjust as needed)
Zest of 1 small Orange
Coconut Milk – 150 ml
Sunflower Oil – 3 tsp
Salt as per taste
Black Pepper Powder as per taste
Method:
1. Heat oil in a pan over medium flame.
2. Saute the ginger, garlic, onions and red chillies for 2 to 3 minutes.
3. Add the garam masala powder, carrots, lemongrass and orange zest.
4. Pour 1 1/2 cups of water and cover the pan with a lid.
5. Cook for 10 to 15 minutes.
6. Pour 120 ml of the coconut milk and bring to a gentle boil.
7. Reduce flame and simmer for 5 to 10 minutes or until the carrots are soft.
8. Sprinkle salt and pepper powder.
9. Remove and discard the lemon grass.
10. Transfer to a blender and blend until smooth.
11. Pour into serving bowls and garnish with the remaining coconut milk.
12. Sprinkle a little garam masala powder on top.
13. Serve.