A simple and filling soup ideal for lunch or dinner. If desired you can add carrots, peas, spring onions or cabbage.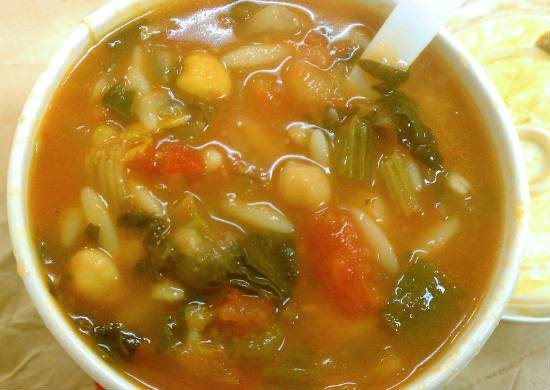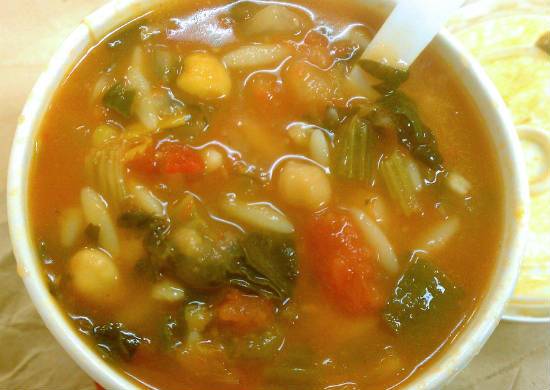 Ingredients:
Chickpeas – 400 gms, soaked in slightly salted water for 8 hours
Tomatoes – 200 gms, peeled, chopped
Vegetable Stock – 2 cups
Olive Oil – 3 tsp
Onion – 1, small, chopped
Garlic – 1 clove, crushed
Cumin Powder – 1 tsp
Cinnamon Powder – 1/2 tsp
Ginger Powder – a pinch
Salt as per taste
Black Pepper Powder as per taste
Juice of 1/4 Lemon
Parsley – handful, chopped
Method:
1. Heat olive oil in a pan over medium flame.
2. Saute the onions and garlic for 2 to 3 minutes or until onions turn golden.
3. Add the cumin powder, ginger powder and cinnamon powder.
4. Drain the chickpeas and add half to the pan.
5. Pour 1 1/2 cups of the vegetable stock and stir.
6. Bring to a boil and reduce flame.
7. Simmer for 2 to 3 minutes.
8. Grind the remaining chickpeas and stock to a smooth puree.
9. Add to the pan and stir well.
10. Add parsley, lemon juice, salt and pepper powder.
11. Stir and serve warm.