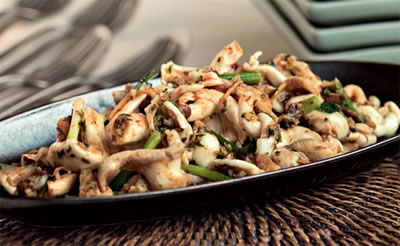 Ingredients:
Oyster Mushrooms – 125 gms, stems removed, chopped
Coriander Leaves – 1 tblsp, minced
Ginger – 1/2 tblsp, minced + 1 one inch piece, sliced lengthwise
Garlic – 2 cloves, peeled
Yellow Bean Paste – 1 tblsp
Oil – 2 tblsp
Spring Onions – 2, cut into lengths
Water – 1 tblsp
Sugar – a large pinch
White Pepper Powder – a pinch
Sea Salt – a pinch
Method:
1. Combine the coriander leaves, minced ginger, garlic and yellow bean paste.
2. Grind them together and keep aside.
3. Heat 1/2 tblsp of oil in a pan over high flame till smoking.
4. Stir-fry half of the mushrooms for 15 seconds and the edges are lightly browned.
5. Remove and keep aside.
6. Heat 1/2 tblsp of oil in the same pan and stir-fry the remaining mushrooms.
7. Remove and keep aside with the other mushrooms.
8. Heat 1 tblsp of oil in the same pan.
9. Add the ground paste and cook for 15 to 20 seconds.
10. Add the sliced ginger, spring onions and cook till onions turn light brown.
11. Add stock, sugar and white pepper powder.
12. Bring to a boil and then simmer till the sauce is thick.
13. Add the mushrooms and stir well.
14. Transfer to a serving plate.
15. Serve hot.