A sweet and tangy salad with chicken, mangoes and almonds. Perfect as a salad or as a sandwich filling.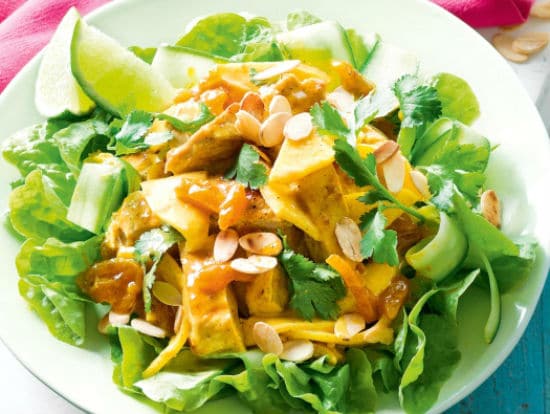 Ingredients:
Chicken – 225 gms, boneless, cooked and torn into large strips
Salad Leaves – 1/4 cup
Mango – 1, small, peeled, stoned, sliced
Mango Chutney – 1/2 tblsp
Plain Yoghurt – 2 tblsp
Mayonnaise – 2 tblsp
Curry Paste – 1/2 tblsp
Onion – 1, small, chopped
Whole Almonds – 1 1/2 tsp, blanched
Cashewnuts – 1 1/2 tsp
Sunflower Oil – 1 1/2 tsp
Salt as per taste
Black Pepper Powder as per taste
Coriander Leaves as required
Method:
1. Heat oil in a pan over medium flame.
2. Add the cashewnuts and almonds. Fry for a minute or until golden.
3. Remove and keep aside.
4. Add the onions to the pan and saute until golden or for 5 minutes.
5. Add the curry paste and cook for 30 to 45 seconds.
6. Remove and transfer to a bowl.
7. Add the mango chutney, yogurt and mayonnaise to the onion mixture and mix well.
8. Add the chicken strips and toss well to coat.
9. Place the salad leaves in a serving bowl.
10. Add the chicken mixture to the bowl and toss gently.
11. Sprinkle the cashewnuts and almonds.
12. Garnish with the coriander leaves.
13. Serve.