An easy to make stir-fry with a choice of vegetables. Feel free to add/remove vegetables and best served with cooked rice or egg fried rice.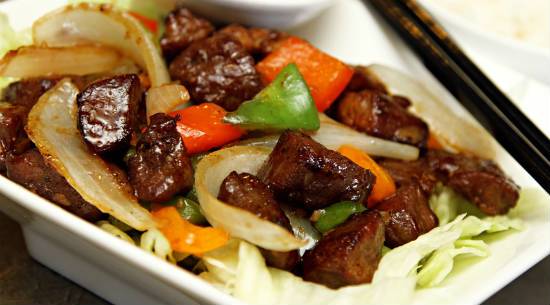 Ingredients:
Steak – 350 gms, cut into 1/4 inch slices (or cubes)
Green Chillies – 2 tsp, finely chopped, seeds removed
Garlic – 1 clove, grated
Spring Onions – 2 to 3, finely sliced
Mushrooms – 100 gms, sliced
Green Capsicum – 1/4 cup, chopped
Sweet Corn Kernels – 100 gms, soaked for 30 minutes
Sugar – 1 tsp
Soy Sauce – 2 tblsp
Lime Juice – 2 tblsp
Olive Oil – 3 tsp
Salt as per taste
Black Pepper Powder as per taste
Method:
1. Sprinkle salt and pepper powder on the beef slices.
2. Keep aside for 15 to 30 minutes.
3. Mix the green chillies, sugar, lime juice and soy sauce in a bowl.
4. Pour this over the beef and mix well until evenly coated.
5. Heat oil in a pan over medium flame.
6. Cook the beef slices for 3 to 5 minutes, stirring from time to time.
7. Remove the beef and keep aside.
8. Cook the remaining liquid in the pan until thickened.
9. Add garlic, spring onions and stir well.
10. Add the mushrooms and cook for a minute or two.
11. Add the capsicum and sweet corn.
12. Cook for 2 minutes.
13. Add the reserved beef slices.
14. Cook for a minute more.
15. Remove and serve.