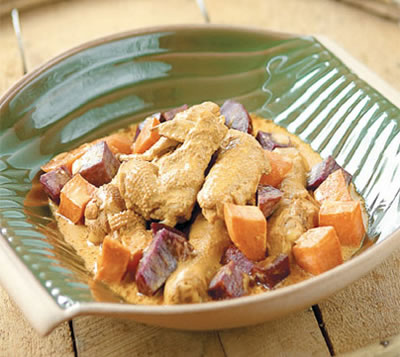 Ingredients:
Chicken – 750 gms, cut into small pieces
Sweet Potato – 3, small, peeled, cubed, dried
Garlic – 1/2 tblsp, minced
Onion – 1, medium, quartered, separated
Bay Leaf – 1 to 2
Lemongrass – 1 stalk, inner part chopped, outer layers discarded
Carrot – 1, small, cubed
Water – 1 cup
Coconut Milk – 1/2 cup, thick
Oil as required for deep frying
For the marinade:
Curry Powder – 1 1/2 tblsp
Sugar – 1/2 tsp
Salt – 1/2 tsp
Black Pepper Powder – a pinch
Method:
1. Marinate the chicken pieces in the marinade and mix well.
2. Cover and keep aside for an hour.
3. Heat oil in a pan over medium flame.
4. Deep-fry the sweet potatoes until golden brown and crispy.
5. Remove and drain excess oil.
6. Heat 1 tblsp of oil in a separate pan.
7. Stir-fry the garlic for 30 seconds.
8. Add the bay leaves, onions and lemongrass.
9. Stir-fry till tender.
10. Add the marinated chicken pieces and cook for 2 minutes.
11. Add the carrot and pour the water.
12. Bring to a boil and cover with a lid.
13. Simmer for 10 to 15 minutes until the chicken is cooked.
14. Add the sweet potatoes and coconut milk.
15. Mix well and simmer for 10 minutes.
16. Remove and transfer to a serving plate.
17. Serve hot with rice.