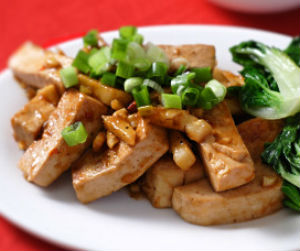 Ingredients:
Tofu – 250 gms, sliced into small pieces
Oil for frying
Spring Onions – few, chopped, for garnish
For the sauce:
Sesame Oil – 1/2 tblsp
Brown Sugar – 1/2 tblsp
Corn Flour – 1/2 tblsp, dissolved in 1/4 cup warm water
Egg – 1, small, beaten
Chili Garlic Sauce – 2 tblsp
Oyster Sauce – 2 tblsp
Method:
1. Heat oil in a non-stick frying pan.
2. Fry the tofu pieces till crisp.
3. Remove and drain excess oil.
4. Keep aside in a warm place.
5. Mix the oyster sauce, sesame oil, chilli garlic sauce and corn flour mixture in a pan.
6. Add the brown sugar and simmer for a minute or until the sauce starts to thicken.
7. Add the beaten egg and mix.
8. Cook for another minute and pour over the fried tofu.
9. Garnish with spring onions.
10. Serve.
image credit: flickr