A very popular dish at party and family get-togethers, these crispy chicken wings are best served with a dipping sauce of choice.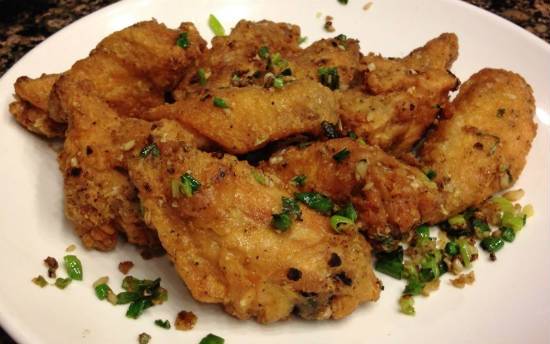 Ingredients:
Chicken Wings – 4 to 5, cut into 3 pieces each
Cornflour – 1/4 cup
Garlic – 1 clove, finely chopped
Fish Sauce – 2 tblsp
Sugar – 2 tblsp
Red Chilli – 1, chopped
Coriander Leaves – small handful, chopped
Green Chillies – 1, finely chopped
For the Marinade:
Garlic – 1 clove, finely chopped
Fish Sauce – 3 tsp
Black Pepper Powder – a pinch
Method:
1. Mix the marinade ingredients in a large bowl.
2. Add the chicken pieces and toss well until evenly coated.
3. Keep the bowl in the fridge for 60 minutes.
4. Heat oil in a frying pan over medium flame.
5. Remove the chicken from the marinade and pat dry.
6. Dredge them in the cornflour, shaking off any excess flour.
7. Add them to the hot oil and fry until crisp and golden brown.
8. Remove and drain excess oil.
9. In a bowl, mix the fish sauce, garlic, sugar and 2 tblsp of water.
10. Heat this in a pan over medium flame for 3 to 4 minutes.
11. Add red chillies and the chicken wings.
12. Toss well to mix, until evenly coated.
13. Garnish with coriander leaves and green chillies.
14. Serve.