A vegetarian stuffed Cabbage rolls with a dal and onion filling.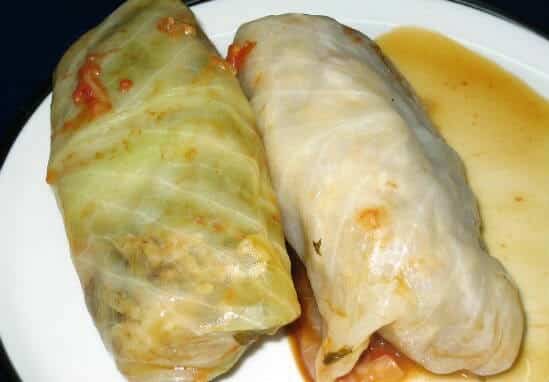 Ingredients:
Cabbage Leaves – 20, tender
Coriander Leaves – few
Cloves – 20
For the Filling:
Moong Dal – 100 gms, soaked for 1 hour
Bengal Gram Dal – 100 gms, soaked for 1 hour
Dry Red Chillies – 12 to 15, adjust as per taste
Asafoetida Powder – little
Salt as per taste
Turmeric Powder as per taste
For Tempering:
Mustard Seeds – 1 tsp
Cumin Seeds – 1 tsp
Oil – 2 tsp
Onions – 2, medium, chopped
Method:
1. Soak the cabbage leaves in hot water for 2 minutes and dip them in cold water.
2. Drain well and keep aside.
3. Grind all the filling ingredients, without adding water, to a fine coarse consistency (like rava/sooji).
4. Heat oil for tempering.
5. Fry the mustard seeds and cumin seeds for a minute.
6. Add the onions and saute for 2 to 4 minutes.
7. Add salt and turmeric powder.
8. Saute for another minute and add to the ground filling.
9. Mix well.
10. Keep 1 or 2 tblsp of the filling inside each cabbage leaf.
11. Roll them tightly and secure the edges with a clove.
12. Steam cook for 10 minutes and transfer to a serving plate.
13. Garnish with coriander leaves.
14. Serve.