These delicious truffles made with rum, raisins and cocoa powder are perfect for any party or also as a gift to family/friends.  Delicious and easy to make, they make a great dessert for any special meal.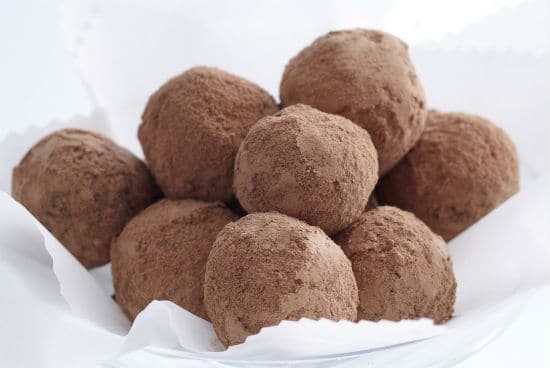 Ingredients:
Dark Rum – 150 ml
Raisins – 150 gms
Dark Chocolate – 750 gms, finely chopped
Cocoa Powder – 2 cups
Cream – 1 1/2 cups
Method:
1. Mix the raisins with rum in a bowl and keep aside.
2. Heat cream in a pan over high flame and bring to a boil.
3. Mix the chocolate and cream in a bowl.
4. Place it over a small pan of simmering water.
5. Stir until the chocolate is melted and smooth.
6. Add the raisin mixture and stir well.
7. Remove and keep aside to cool.
8. Keep it in the fridge for 2 to 3 hours or until just firm.
9. Roll the mixture into small balls and place them on a flat tray.
10. Sprinkle with the cocoa powder.
11. Serve.
image via foodtolove