Marble Pound Cake is a moist and dense cake that is perfect for a cup of coffee or tea. It is also ideal for special occasions like weekend parties and during Christmas season. The recipe for Marble Pound Cake does not use any decoration. Decorate it as you desire.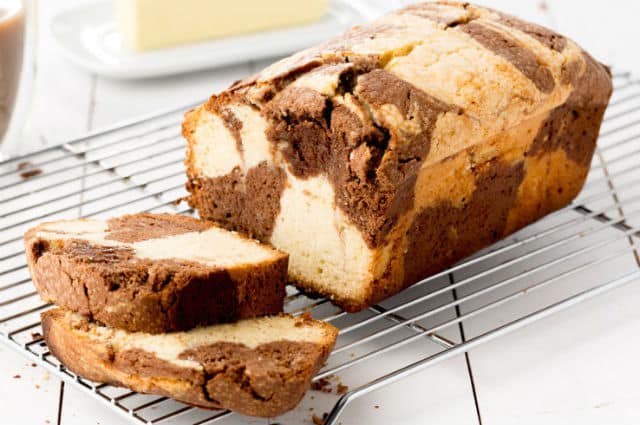 Ingredients:
Unsalted Butter – 1/2 cup
Chocolate Chips – 1/3 cup, semisweet
All-Purpose Flour – 1 cup
Vanilla Extract – 3/4 tsp
Eggs – 2 to 3
Baking Powder – 3/4 tsp
Salt a pinch
Sugar – 3/4 cup, granulated
Method:
1. Melt the chocolate chips and cool to room temperature.
2. In a large bowl beat together sugar, butter, salt and baking powder until pale and fluffy.
3. Add the eggs, one at a time.
4. Add the vanilla extract.
5. Gradually add the flour and mix until blended.
6. Transfer half of the batter to an another bowl and mix the melted chocolate.
7. Drop spoonfuls of plain and chocolate batter alternately into a greased nonstick loaf pan lined with wax paper at the bottom.
8. Run a knife through for a marbelized effect.
9. Keep the pan in a pre-heated oven at 325F for 80 minutes or until a wooden pick inserted in center comes out clean.
10. Remove and cool on a wire rack for 15 minutes.
11. Invert, remove wax paper and turn cake right side up.
12. Cool completely.
13. Decorate as desired.
Tip: Undecorated cake can be kept at room temperature for up to a week or frozen for up to 60 days.