Simple, easy and delicious vegetarian meatballs using mushrooms.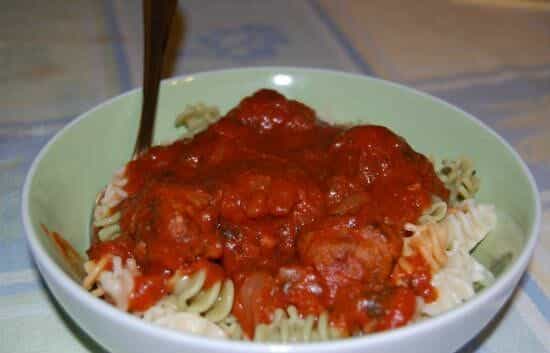 Ingredients:
Mushrooms – 500 gms, finely chopped
Cheddar Cheese – 150 gms, grated
Olive Oil – 1/4 cup + 2 tblsp
Almonds – 80 gms, ground
Onion – 1, grated
Breadcrumbs – 250 gms
Soy Sauce – 2 tblsp
Egg – 1 large or 2 medium
Salt as per taste
Pepper Powder as per taste
For the Sauce:
Sour Cream – 500 gms
Zest of 1 Lemon – finely grated
Basil Leaves – handful, roughly chopped
Method:
1. Heat 2 tblsp olive oil in a pan over medium flame.
2. Add the mushrooms and cook until tender and dry.
3. Keep aside to cool.
4. To the same pan, add cheese, almonds, onion and breadcrumbs.
5. Add soy sauce and egg.
6. Add some salt and pepper powder.
7. Stir well and cook for a minute.
8. Then make small sized balls and keep them aside.
9. Heat the 1/4 cup olive oil in a frying pan.
10. Add the prepared balls and fry them until golden.
11. Remove and keep them warm in a bowl.
12. To make the sauce, heat sour cream in a pan over low flame.
13. Add lemon zest, basil and pepper powder.
13. Mix well.
14. Pour this over the meatballs.
15. Serve with rice or pasta.