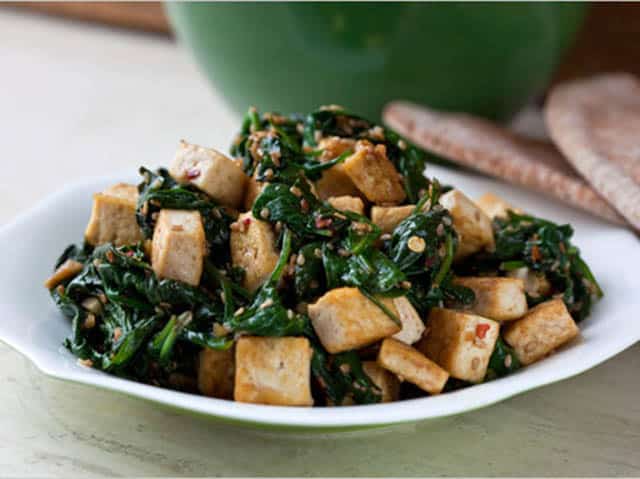 Ingredients:
Tofu – 225 gms, firm, cut into squares
Sesame Seeds – 1/8 cup
Dark Sesame Oil – 1 tblsp
Soy Sauce – 1 tblsp
Olive Oil – 1 tsp
Garlic – 2 cloves, chopped
Baby Spinach Leaves – 150 gms, rinsed, chopped
Salt as per taste
Pepper Powder as per taste
Method:
1. Spread the sesame seeds on a flat plate and roll the tofu squares and coat evenly with the seeds.
2. Heat sesame oil in a large pan over medium flame.
3. Arrange the tofu on the pan and cook for 3 to 5 minutes.
4. Flip them over and cook for another 3 to 5 minutes.
5. Add the soy sauce and turn the tofu over and cook for 30 to 45 seconds.
6. Transfer the tofu to a plate.
7. Meanwhile, heat olive oil in a pan and saute the garlic until golden.
8. Add the spinach leaves and cook for 2 minutes.
9. Add salt and pepper.
10. Transfer the spinach leaves to a plate and place the tofu squares on top.
11. Serve with rice.
image credit: flickr