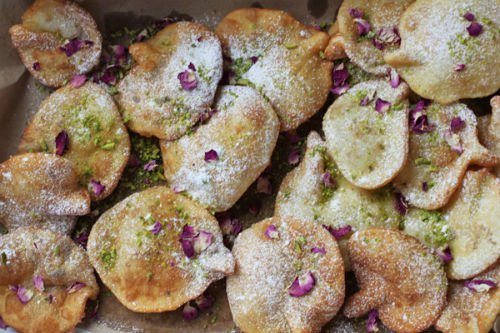 Ingredients:
Flour – 1 kg
Very Fine Semolina – 1/2 kg
Ghee – 2 tsp
Egg Yolk – 2
Milk – 2 cups
Salt as per taste
Sugar – 1 kg
Water – 3 to 4 cups
Oil
Almonds – few, slivered
Pistachios – few, slivered
Method:
1. Mix the flour and semolina together with ghee, egg yolk and milk.
2. Add salt as required.
3. Add water if required and knead well to make an elastic but non sticky dough.
4. Roll out the dough on a floured surface till it is little more than 1/8 inch thick.
5. Cut rounds of about 2 1/2 inch diameter.
6. Cut these rounds again in half and shape each one like a fan by gathering the straight edge together in 3 pinched gathers.
7. Press gathers together at the lower end to form a central stem.
8. Meanwhile, prepare the syrup by cooking sugar in water to a 1 string consistency.
9. Deep fry the fan-shaped pastries and drain.
10. Dip each one into the sugar syrup and remove immediately.
11. Put them on a flat surface.
12. Sprinkle finely sliced almonds and pistachios over each pastry.
13. Serve warm or serve cool during tea-time.
image credit: thespicespoon.com