Lamb Kofta is a dish prepared with a mixture of minced lamb and aromatic spices
.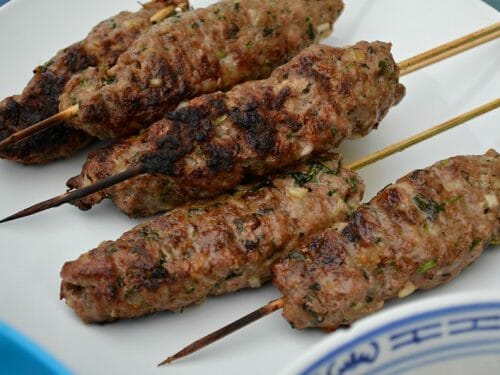 The word Kofta is derived from the Persian verb "koftan" which means "to grind", referring to the meatballs made from ground meat. Koftas are meatballs made with beef, chicken, lamb or pork.
Its origin lies in the Middle East but it has been cooked in various ways in different parts of our country. A certain type of meat is mixed well with rich spices to make the kofta mixture. The same is then molded on skewers and cooked by frying or grilling.
Lamb Kofta is a dish prepared with a mixture of minced lamb and aromatic spices. The mixture is then shaped into balls or patties as per the preference and then grilled on skewers.
It can be served as an appetizer or a side dish with biryani or any other regular meal preparation. It can be eaten with bread or can be rolled into a chapati for a quick snack.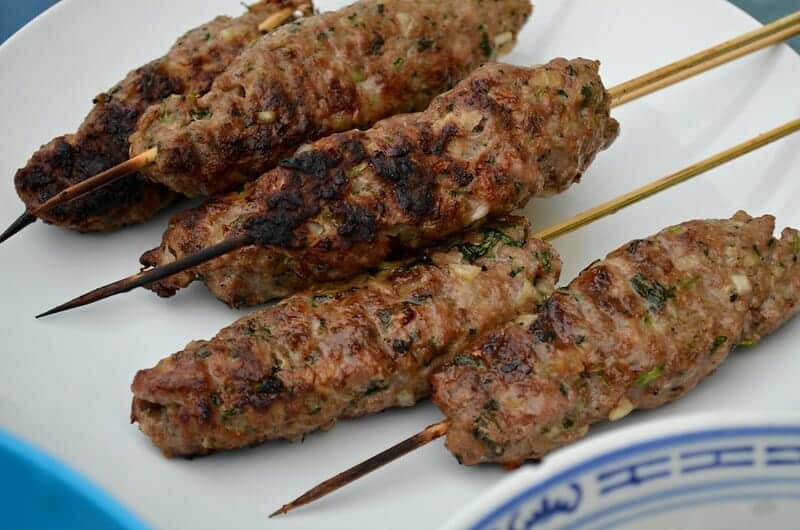 As an appetizer, Lamb Kofta can be served with refreshing green chutney to make the dish even more palatable.
Endless variations of Koftas are made and relished in different parts of Middle Eastern countries and in the Indian sub-continent too. There are lots of other meats that can be tried if one does not prefer lamb meat.
A quick garlic dip made from curd and finely chopped garlic pieces can be a perfect match for koftas. Vegetarian options like soya chunks/ nutrella or koftas made from potatoes, paneer or bottle gourd can also be used to make scrumptious koftas.
Adding minced vegetables, toasted nuts, and fresh herbs can give the kofta a deep and satiating flavor. Lamb koftas can be placed in a serving plate or can be left on the skewers while serving for convenience.
Garnishing with lemon and some beautifully browned onions enhances the beauty of this exotic dish. It is a favorite of many and a must have for the ones who haven't tasted it yet.
This particular recipe made out of lamb melts in the mouth and its aroma complements its mouth-watering taste perfectly.
A quick and easy to made Middle Eastern dish that can be served for any meal. Best served with lemon wedges along with naan or biryani.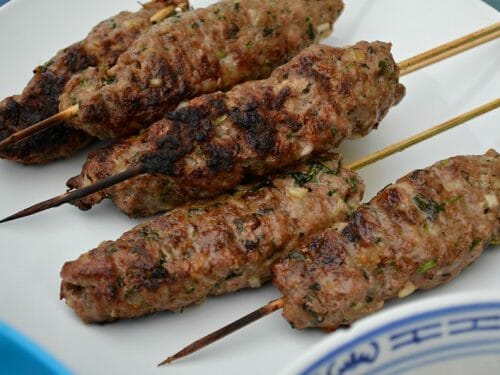 Lamb Kofta

Recipe

Lamb Kofta is a dish prepared with a mixture of minced lamb and aromatic spices
.
Ingredients for
Lamb Kofta
250

g

Minced Lamb

1/2

cup

Breadcrumbs

1

Onion

small, finely chopped

1

Egg

beaten

handful

Mint Leaves

finely chopped

handful

Coriander Leaves

finely chopped

1

tsp

Cinnamon Powder

1

tsp

Cardamom Powder

1

tsp

Cumin Powder

1/2

tsp

Red Chilli Powder

1

tsp

Turmeric Powder

as per taste

Salt

as per taste

Black Pepper Powder

little

Olive Oil
Optional Ingredients:
1

tsp

Ginger Garlic Paste

1/4

tsp

Red Chilli Flakes
How to make
Lamb Kofta
Combine the minced lamb and breadcrumbs in a bowl.

Mix well.

Add the onions, mint leaves, coriander leaves, cinnamon powder, cardamom powder, cumin powder, red chilli powder and turmeric powder.

Sprinkle some salt and pepper powder.

Mix well.

Add the egg and mix again until all ingredients are evenly combined.

Make small balls of the mixture and insert a skewer into the center.

Gently press the mixture around the skewer and keep aside.

Heat a grill pan over medium flame.

Add some olive oil and grill the prepared koftas until golden brown on all sides.

Remove and serve with naan/parathas and lemon wedges.