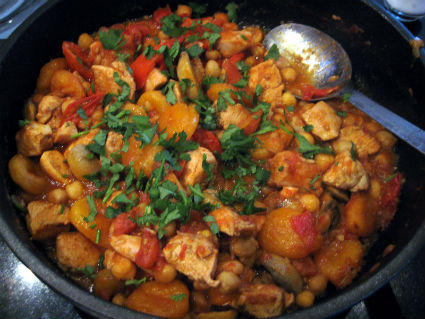 Ingredients:
Chicken Breasts and Thighs – 1 kg, boneless, skinless, chopped into pieces
Olive Oil – 4 tblsp
Onion – 2, small (1 chopped and 1 sliced)
Garlic Clove – 1, minced
Cinnamon Powder – 1 tsp
Turmeric Powder – 1/4 tsp
Salt as per taste
Pepper – 1 tsp
Honey – 3 tblsp
Dried Apricots – 1 cup, soaked in water for 12 hours
Couscous – prepared according to directions on the package
Method:
1. Heat oil in a large pan.
2. Add chicken, chopped onion and garlic.
3. Saute for 5 minutes or until chicken stars to turn brown and onions are soft.
4. Add 1 cup of water.
5. Add sliced onions, cinnamon powder, turmeric powder, salt, pepper and stir well.
6. Add more water until chicken is just covered.
7. Increase heat to high and bring to a boil.
8. Cover the pan with a lid, reduce heat and simmer for an hour or until chicken is cooked and tender.
9. Transfer the chicken pieces to a plate.
10. Add honey and soaked apricots to the pan.
11. Stir well and simmer for 20 minutes more or until it begins to thicken.
12. Add the chicken to the pan and cook for a few minutes more.
13. Serve hot with couscous.
image credit: serenasmediumrare.blogspot.com