Looking for a hearty vegetarian option? Try our Vegetable Crumble, a symphony of flavours and textures in every bite.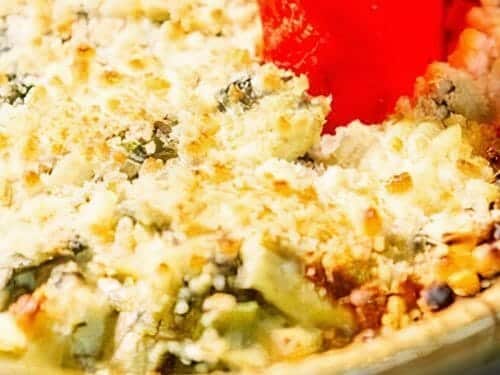 Vegetable Crumble is a mouthwatering savoury dish that combines the wholesome goodness of various vegetables with a delectable cheesy crumble topping. It's perfect for those looking to savour a comforting, homemade meal.
This dish boasts a vibrant combination of carrots, onions, red capsicum, zucchini, and tomatoes, all perfectly cooked. The veggies are sautéed until tender and then simmered in a delightful mix of dried basil, salt, pepper, and cider vinegar, creating a harmonious blend of flavours.
The magic happens when we top this veggie medley with a crumbly mixture of flour, salt, butter, and grated cheese. The cheese melts into the crumble as it bakes to a glorious golden brown in the oven, creating a satisfyingly crispy texture that perfectly complements the tender vegetables beneath.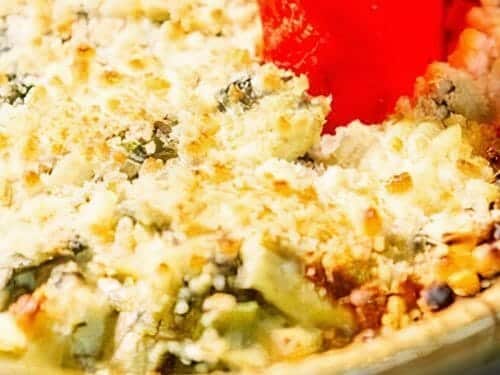 Vegetable Crumble
Looking for a hearty vegetarian option? Try our Vegetable Crumble, a symphony of flavours and textures in every bite.
Ingredients
2

tbsp

Olive Oil

2

Carrots (thickly sliced)

2

Onions

1

Red Capsicum

1

Zucchini

2

Tomatoes

1/2

tsp

Dried Basil

Salt (to taste)

Black Pepper (to taste)

2

tsp

Cider Vinegar

150

gms Flour

1/4

tsp

Salt

50

gms Butter

1/2

cup

Cheese (grated)
Instructions
Heat olive oil in a pan.

Add onions and carrots, sauté for 5 minutes.

Add red capsicum, sauté for another 5 minutes.

Add zucchini, sauté for 5 more minutes, stirring constantly.

Add tomatoes, dried basil, salt, and black pepper. Bring to a boil, cover, and simmer for 10 minutes.

Preheat the oven to 200°C (392°F).

In a bowl, combine flour and 1/4 tsp salt. Add butter and rub until it resembles breadcrumbs. Stir in 3/4 of the grated cheese.

Add cider vinegar to the vegetables, stir well, and transfer to an ovenproof casserole.

Sprinkle the crumble mixture over the vegetables and top with the remaining cheese.

Bake in the oven for 15 to 20 minutes until golden brown.

Serve hot.
Serving Size: 4 servings
Frequently Asked Questions (FAQs):
What can I serve with Vegetable Crumble?
Vegetable Crumble pairs wonderfully with a side salad or steamed greens for a complete meal. Consider serving it alongside garlic bread or a bowl of creamy tomato soup for a heartier option.
Can I make this dish vegan?
Absolutely! To make a vegan version of Vegetable Crumble, substitute vegan butter and dairy-free cheese for the butter and cheese in the crumble topping.
Is there a gluten-free option for this recipe?
Yes, you can make this recipe gluten-free by using a gluten-free flour blend instead of regular flour. Ensure that other ingredients like vinegar and cheese are also gluten-free.
Can I prepare Vegetable Crumble in advance?
Yes, you can assemble the dish in advance and refrigerate it. Bake it before serving to ensure the crumble topping stays crisp and delicious.
What other comforting recipes can I try if I enjoyed Vegetable Crumble?
If you loved Vegetable Crumble, you might enjoy recipes like "Creamy Potato Leek Soup" and "Spinach and Mushroom Quiche." These dishes offer similar cosy flavours and are perfect for a satisfying meal.