Elevate your sandwich game with Veg Cutlet Sandwich: a fusion of spiced potato cutlets, zesty green pea paste, and cheese.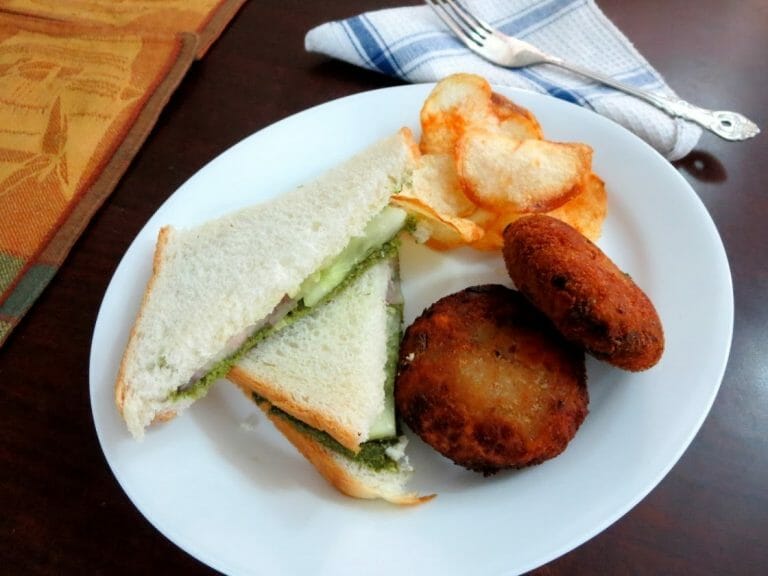 Introducing the Veg Cutlet Sandwich – a harmonious blend of flavours and textures that will tantalize your taste buds. Imagine biting into a sandwich that encompasses the essence of crispy potato cutlets, the vibrant zest of green peas, and the richness of melted cheese, all lovingly tucked between slices of bread.
This creation is a tribute to the art of fusion cuisine, where traditional Indian spiced cutlets meet the Western sandwich concept. The journey begins with a mixture of boiled potatoes, chaat masala powder, and a touch of oil, formed into golden patties. These patties become the canvas for a medley of flavours – a coarsely ground paste of green peas, ginger, green chillies, sautéed onions, and a sprinkle of grated cheese.
As the cutlets sizzle to golden perfection on a hot grill, the cheese melts into a luscious blanket, binding all the elements together. The result is a sandwich that's not just a treat for the palate but a feast for the senses. Each bite offers a satisfying crunch, earthy and spicy notes, and a creamy, cheesy finish.
Pair this Veg Cutlet Sandwich with a side of mint chutney or a tangy tomato salsa for an extra layer of flavour. Suppose that this recipe's harmonious fusion entices you; enjoy exploring other culinary blends like Paneer Tikka Tacos or Masala Grilled Cheese – dishes that push boundaries while celebrating the essence of Indian flavours.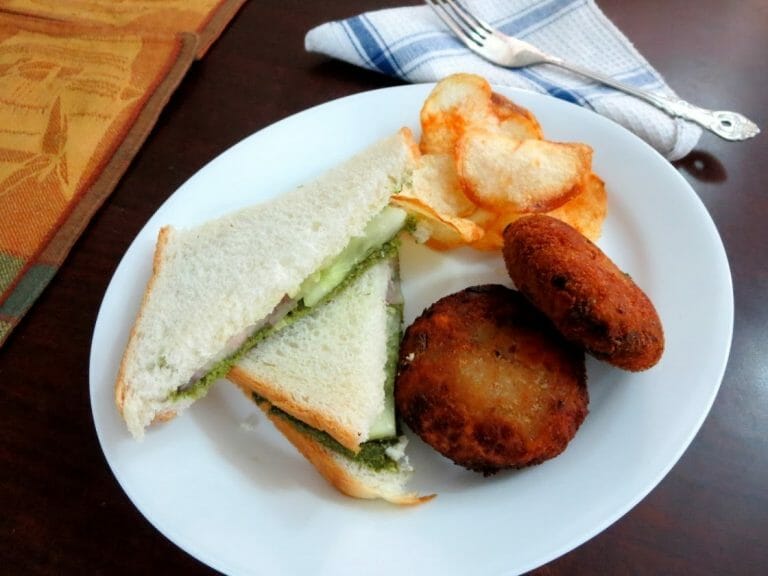 Veg Cutlet Sandwich

Recipe

Elevate your sandwich game with Veg Cutlet Sandwich: a fusion of spiced potato cutlets, zesty green pea paste, and cheese.
Ingredients for
Veg Cutlet Sandwich
Potatoes - 500 gms boiled

Green Peas - 1 cup (shelled, boiled)

Onion - 1

Green Chillies - 4

Chaat Masala Powder - 2 tsp

Cheese - 1 cup (grated)

Salt - as per taste

Ginger - 1 to 2 tsp (grated)

Oil - as required

Tomato Ketchup - as required

Breadcrumbs - as required
How to make
Veg Cutlet Sandwich
Mix salt, chaat masala powder, boiled potatoes, and a little oil until smooth in a bowl.

Form small balls from the mixture and flatten them.

Spread tomato ketchup on one side of the patties.

Blend green peas, ginger, and green chillies into a coarse paste.

Sauté onions in oil, add salt and the green pea mixture and mix well.

Place 1-2 tbsp of the mixture on a potato patty, sprinkle grated cheese and cover with another patty.

Coat with breadcrumbs by rolling or sprinkling on top.

Heat oil on a tawa over medium flame.

Cook the prepared cutlets until golden brown and crisp on both sides.

Serve between two slices of bread for a delectable Veg Cutlet Sandwich experience.
Serving Size: 2 sandwiches
Frequently Asked Questions (FAQ)
How can I make this sandwich healthier?
For a healthier twist, consider using whole wheat bread, reducing the amount of cheese, and opting for baking instead of frying the cutlets.
Can I add more vegetables to the cutlet mixture?
Absolutely! Finely grated carrots, boiled and mashed peas, or even spinach can be beautiful additions to enhance the nutrition and flavour.
What can I serve with Veg Cutlet Sandwich for a complete meal?
Pair it with a fresh garden salad or homemade sweet potato fries for a wholesome and satisfying meal. You might also enjoy exploring our recipe for Minty Yogurt Dip – a delightful accompaniment that complements the sandwich perfectly.
Can I make these cutlets ahead of time?
Certainly! Prepare the cutlets in advance, store them in an airtight container, and refrigerate. When ready to serve, reheat in an oven or stovetop until crispy and heated.
Are there any other recipes that combine Indian and Western flavours?
Absolutely! If you're a fan of cross-cultural culinary adventures, you might also enjoy trying our recipe for Curry-infused Pizza or Tandoori Quesadillas – dishes that infuse Indian and Western elements for a mouthwatering experience.