A delicious and simple to make teatime/evening snack or serve as an after school snack.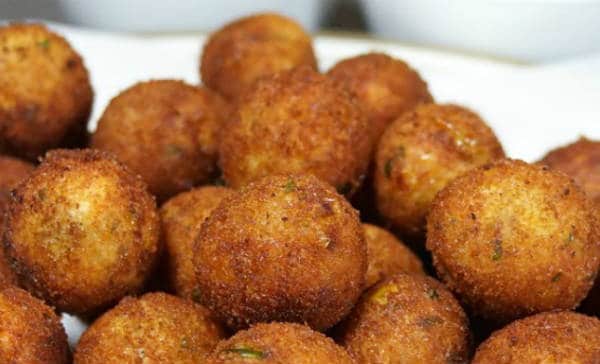 Ingredients:
Spaghetti – 100 gms
Paneer – 200 gms
Cheese – 1/4 cup, grated
Milk – 2 cups
Corn Flour – 2 tblsp
Maida – 1/2 cup
Green Chillies – 4
Garlic – 4 cloves
Rusk – little, powdered
Oil as required
Salt as per taste
Method:
1. Grind the garlic and green chillies to a coarse paste.
2. Cook the spaghetti in 6 cups of water over medium flame.
3. Drain well and rinse under cold water.
4. Keep aside.
5. Heat 1 tblsp oil in a pan.
6. Add the green chilli-garlic paste and saute for 30 seconds.
7. Mix corn flour and milk until the flour is fully dissolved.
8. Add to the pan.
9. When it starts to thicken, add salt, spaghetti, paneer, cheese, maida and mix well.
10. Remove from flame.
11. Make small/medium balls of this mixture.
12. Heat oil in a frying pan.
13. Roll the balls in the powdered rusk and gently add to the hot oil.
14. Fry until golden brown and remove.
15. Drain excess oil.
16. Serve as a snack.
Note: image is for illustration purposes only and not that of the actual recipe.