Mozzarella Sticks are a classic appetizer to any meal. Often served as a party snack, they make a great after-school snack for the kids or an evening teatime snack. This is the eggless variation of mozzarella sticks.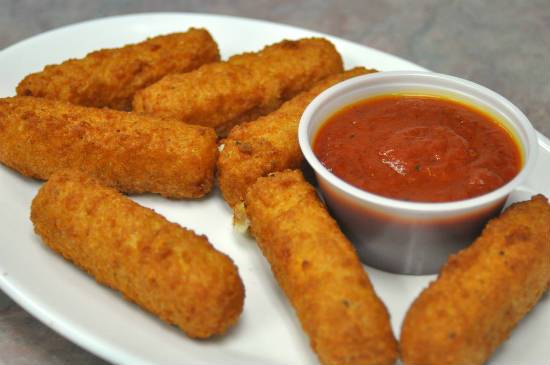 Ingredients:
Mozzarella Cheese – 350 gms
Maida (Plain Flour) – 1/2 cup
Besan Flour (Chickpea Flour) – 1/2 cup
Breadcrumbs – 1/2 cup
Oil for frying
Method:
1. Cut the cheese into 1/2-1 inch sticks and keep aside.
2. Mix the maida and besan flour in a bowl.
3. Add enough water and mix to a thick batter.
4. Spread the breadcrumbs on a plate.
5. Dip the cheese sticks in the batter and roll them in the breadcrumbs.
6. Place them on a parchment paper and keep it in the fridge for 2 to 3 hours or overnight.
7. This is to ensure the cheese does not melt while frying and it has a crispy coating.
8. Heat oil in a deep frying pan.
9. Fry the mozzarella sticks until light golden brown.
10. Remove and drain excess oil.
11. Serve with a dipping sauce of choice.
Note:
If the cheese starts to ooze out, then remove them at once and place them on paper towels to drain.
Instead of Besan flour, you can also use 1 beaten egg.