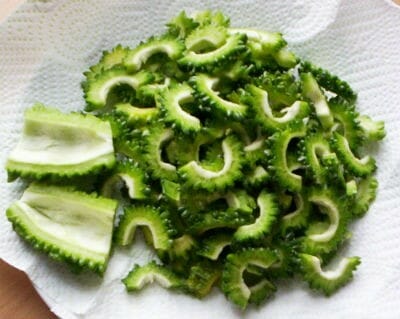 Ingredients:
Bitter Gourds (Pavakkai) – 2, finely sliced, seeds removed
Toor Dal – 2 tblsp
Bengal Gram Dal – 2 tsp
Rice Flour – 2 tsp
Sambar Powder – 2 tsp
Turmeric Powder – 1/2 tsp
Jaggery – 1 tsp
Tamarind Extract – 1 cup
Salt as per taste
Oil as required
To Grind:
Bengal Gram Dal – 2 tsp
Coriander Seeds – 2 tsp
Dry Red Chillies – 2
Coconut – 1 tblsp, grated
For Tempering:
Mustard Seeds – 1 tsp
Asafoetida Powder – a pinch
Curry Leaves – few
Method:
1. Cook the toor dal and bengal gram dal separately. Keep aside.
2. Heat a little oil in a frying pan.
3. Fry the ingredients to grind for 30 seconds and grind well.
4. Add little water to rice flour and mix well.
5. Boil the bitter gourds and keep aside.
6. Add salt, turmeric powder and sambar powder to tamarind extract.
7. Place it over medium flame.
8. Add the bitter gourd pieces and simmer for 2 minutes.
9. Add the dals, ground masala, rice flour and jaggery.
10. Stir well and bring to a boil.
11. Fry the tempering ingredients in little oil and add to the sambar.
12. Simmer for a minute and remove.
13. Serve hot.