Lord Ganesha is the god of wisdom and prosperity. He is one of the most popular Hindu Gods with the unique position of being prayed first. Ganesh Chathurthi, the birthday of Lord Ganesh is celebrated on the fourth day of the Shukla paksha (moon bright fortnight) in the lunar month of Bhadrapad. Mostly, the celebration continues for 10 days. Although Ganesh chathurthi is celebrated all across the country, it has its celebrations grandest in Maharashtra, Karnataka, Tamil Nadu and Andhra Pradesh.
Since time immemorial, Ganesh Chaturthi has been celebrated. However, the present style of festivity came into fashion in 1893. In the past, Ganesh Chathurthi had been just a family affair. But, thanks to the efforts of Lokamaya Bal Gangadhar Tilak, it has gained the status of being a social festival.
To promote culture and nationalism, the great Maratha ruler, Chatrapati Shivaji Maharaja started this festival that is dedicated to the son of Lord Shiva and Parvathi. Later Great freedom fighter Lokmanya Tilak revived it to spread the message of freedom struggle and to give the feeling of unity, patriotic spirit and faith. It became the background for political leaders to challenge the British who had banned public meetings and inspire people against the western rule.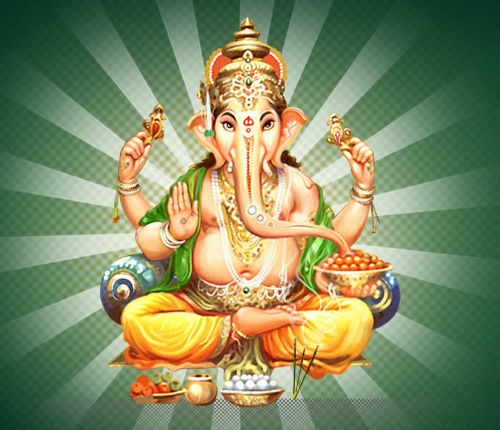 Ganesh Chathurthi is about bringing home brilliantly crafted Ganesh idols and has gained immense popularity. The preparations for the festivities begin at least a fortnight before. Artistically decorated stages are set up and statues are installed in street corners and in homes. Almost every neighborhood is adorned with brightly decorated Ganesh idol which is illuminated and worshipped for all 10 days leading up to Ganesh Chathurthi.
Being the most dynamic among Gods, Lord Ganesh is open to all possibilities of changes and adaptations and thereby can be seen in every form during the Ganesh Chaturthi festival. He keeps on updating his image. Mallus cladding Him in "mundu" whereas He is an ideal Dandiya boy for Gujaratis. Others happy to see Him perched on a rat and He can be seen doing all sorts and chores.
Once all the festivities are over, Ganesh idols are taken out in grand procession and are ritually immersed in the nearby sea, lake or river. The elegant, magnificent Ganesh idols are carried on decorated floats in grand procession for 'Ganesh Visarjan' accompanied by drumbeats, devotional songs and dancing. This immersion ceremony is known as "visarjan" that marks the end of the festivities. "Ganpati bapa, mouriya! Pudcha varshi, laukar ya" is the singing that rents the air meaning "Hai Lord Ganesha, please return soon next year".
Like Ganesh Chathurthi, which is a special occasion, Ganesh Chaturthi recipes too are very special. Lord Ganesha is known for his inclination towards sweets and Ganesh festival will always be incomplete without his favorite special sweet dishes especially laddoos and sugary modaks. On the day of Ganesh festival, the delight of 10 day festivity can be twofold by consuming and distributing sweets and delicacies.
Mouthwatering Kozhukattai is the specialty of Vinayaga Chaturthi. A range of delicious Kozhukattai dishes including Vella Kozhakattai, Ellu Kozhakattai, Pillaiyar Urundai, Uppumavu Kozhakattai, Urundai Kozhakattai, Thengapal Kozhukattai, Pidi Kozhukkattai, Arisi Kozhakattai, Variety of "payasams" (Paruppu Payasam, Kadala Paruppu Payasam, Payatham Paruppu Payasam, Rice Payasam, Gasa Gasa Payasam), lip smacking Sundal (Chick Peas Sundal, Kadalai Paruppu Sundal, Kothu Kadalai Sundal, Pattani Sundal, Channa Sundal) are prepared on that day.
Other yummy sweet dishes include Besan Ke Ladoo, Motichoor Ke Ladoo, Kaju Ke Barfi, Puran Poli, Modak, Rawa Ladoo and Moong Dal Ka Halwa. Savories like Puliyodarai, Karanji, Medu Vadai are also made on this occasion.
Lord Ganesha is considered as the Lord of beginnings and obstacle remover. That's why every auspicious occasion and religious functions begin by invoking his blessings. Breaking coconut is auspicious especially on Ganesh Chaturthy. The significance of breaking coconut is that when coconut is smashed on the floor, it absorbs negative energy from the atmosphere, eradicate the evil forces and ensure the success.
Lord Ganesh comes to this planet to destroy evil. So, celebrate the birthday of Lord Ganesh with utmost devotion and may Lord Ganesha bring you good luck and prosperity.
"Happy Ganesh Chaturthi"