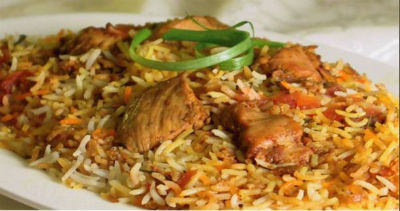 Ingredients:
Mutton – 250 gms, washed, drained and cut into small pieces
Basmati Rice – 3/4 cup, washed, drained
Turmeric Powder – 1/4 tsp
Salt – 1 tsp
Ghee – 1 1/2 tblsp
Sultanas – 1 to 1 1/4 tblsp
Cashewnuts – 1 to 1 1/4 tblsp
Onion – 1, chopped
Tomatoes – 1 to 2, chopped
Green Chillies – 1 to 2, slit
Coriander Leaves – 1 sprig, chopped
Curry Leaves – handful
Curd – 1/4 cup, whisked
Grind to a fine paste #1:
Garlic – 3 cloves, chopped
Ginger – 1 two inch piece, chopped
Cinnamon – 1 one inch piece, broken
Cloves – 1
Fennel Seeds – 1 tsp
Red Chilli Powder – 1 1/4 tsp
Coriander Powder – 1/2 tsp
Black Pepper Powder – 1/2 tsp
Turmeric Powder – 1/2 tsp
Water – 2 to 3 tblsp
Grind to a fine paste #2:
Coconut – 1/4, grated
Water – 1/2 cup
Method:
1. Pressure cook the mutton pieces with 1/4 cup of water for 15 to 30 minutes.
2. Heat a pan over moderate heat.
3. Add the basmati rice, turmeric powder, 1 tsp salt and 1 1/2 cups of warm water.
4. Mix gently and bring to a boil.
5. Reduce heat, cover pan and cook till water is absorbed.
6. Heat 1 1/4 tblsp of ghee in a pan.
7. Fry the sultanas till they puff up.
8. Remove, drain and keep aside.
9. Fry cashewnuts till golden brown in the same pan.
10. Remove and keep aside.
11. Fry the onions till golden brown.
12. Lower heat and add the ground paste #1.
13. Fry for 3 to 4 minutes, stirring all the time.
14. Add the mutton pieces with the stock.
15. Add 1/2 tsp salt and 3 to 4 tblsp of water.
16. Simmer over low heat for 5 to 10 minutes.
17. Add tomatoes, green chillies, coriander leaves, curry leaves, curd and ground paste #2.
18. Cook till the gravy thickens and remove from heat.
19. Grease a casserole dish with 1/4 tblsp ghee.
20. Spread the mutton pieces, followed by rice and then reserved sultanas and cashewnuts.
21. Repeat the order till the topmost layer is rice garnished with sultanas and cashewnuts.
22. Cover tightly and cook on a tava over low heat for 5 minutes.
23. Remove and serve hot.
24. Garnish with fried onions if desired.
Note: image is for illustration purposes only and not that of the actual recipe.