Pidi Kozhukattai (or also known as Kara Kozhukattai) is a traditional and easy to make Ganesh Chaturthi recipe. Since this variation does not have jaggery, it is often called as Kara Kozhukattai.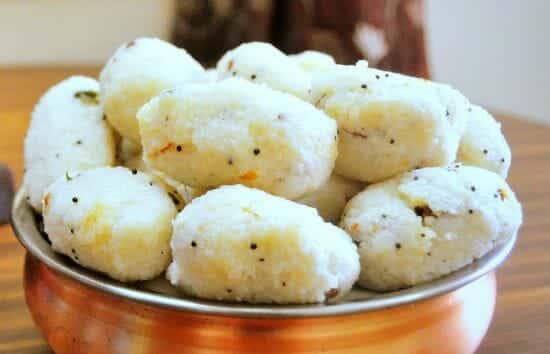 Ingredients:
Raw Rice – 250 gms
Coconut – 1/2
Dry Red Chillies – 2
Asafoetida Powder – a pinch
Curry Leaves – few
Oil as required
Salt as per taste
Urad Dal – 1/2 tsp
Bengal Gram Dal – 1/2 tsp
Mustard Seeds – 1/2 tsp
Method:
1. Grind the raw rice coarsely similar to a rava (small granules and not fully ground).
2. Grate the coconut and keep aside.
3. Heat little oil in a pan over medium flame.
4. Fry the mustard seeds, dals and red chillies for 30 to 45 seconds.
5. Add the grated coconut and stir-fry for a minute or two.
6. Pour 2 to 2 1/2 cups of water.
7. Add salt, curry leaves and asafoetida powder.
8. Stir well and simmer.
9. Add the rawa and stir well ensuring no lumps are formed.
10. When it starts to thicken, remove from flame and cool.
11. Once cool enough to handle, make small egg shaped balls and flatten them lightly.
12. Steam cook these in a greased idli plate for 10 to 15 minutes.
13. Serve.