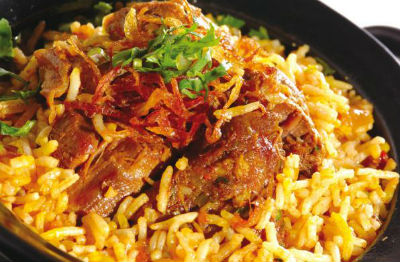 Ingredients:
Basmati Rice – 300 gms
Minced Lamb – 300 gms
Ghee – 100 gms
Curd – 2 tblsp
Onions – 100 gms, chopped
Green Chillies – 3, finely chopped
Tomatoes – 2
Juice of 1/2 Lemon
Ginger Garlic Paste – 2 tblsp
Biryani Masala Powder – 1 1/2 tblsp (available in most major stores)
Curry Leaves – handful
Mint Leaves – handful
Coriander Leaves – handful
Cashewnut Paste – 100 gms
Salt as per taste
Method:
1. Heat ghee in a pan over medium flame.
2. Saute the tomatoes, onions, green chillies, curry leaves, mint leaves and coriander leaves.
3. Add ginger garlic paste and mix well.
4. Add biryani masala powder, minced lamb and cook for a few minutes or till the lamb pieces are tender.
5. Pour 600 ml of water (twice the quantity of rice) and bring to a boil.
6. Now add the rice and salt.
7. Add the cashewnut paste and cook till it starts to thicken.
8. Add the curd, lemon juice and stir well.
9. Simmer for a minute or two or till the water has been absorbed fully and the pulao is ready.
10. Transfer to a serving plate.
11. Serve hot with raita.
Image credit: hk.asia-city.com
Note: image is for illustration purposes only and not that of the actual recipe.