Mutton Seekh Kebab is a traditional Mughlai dish served as a starter to a meal.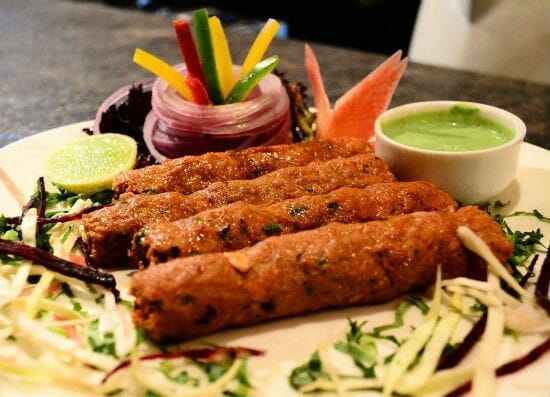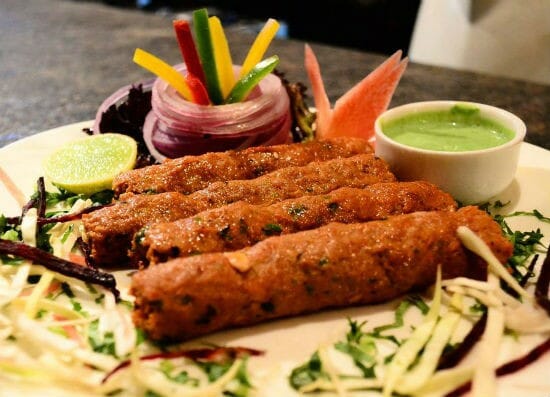 Ingredients:
Minced Mutton  250 gms
Ginger Garlic Paste – 1 tblsp
Turmeric Powder – 1/2 tsp
Red Chilli Powder – 1/2 tsp
Cumin Powder – 1/4 tsp
Coriander Powder – 1/2 tsp
Coriander Leaves – few
Mint Leaves – few
Salt as per taste
Oil – 1 tsp
Lime Juice – 2 to 3 tsp
Butter – 2 tsp
Onion – 1, small, sliced in rings
Lime wedges – few
Method:
1. Combine the first 10 ingredients in a bowl and knead well until sticky and pliable.
2. Cover and keep it in the fridge for an hour.
3. Remove and using wet hands make medium balls of the mixture.
4. Then insert a skewer into the balls and gently wrap the mixture around it, flattening along the length.
5. Place the skewers into a preheated oven at 180c, rotating from time to time.
6. Baste them with a little butter and cook until golden.
7. Remove when a golden brown layer forms on top and transfer to a plate.
8. Garnish with onion rings, lime wedges and coriander leaves.
9. Serve hot with mint chutney.