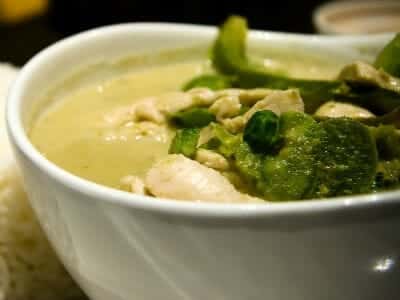 Ingredients:
Lemongrass Stalks – 3
Carrot – 1/4 cup, boiled, chopped
Cauliflower – 1/4 cup, boiled, chopped
Potatoes – 1/2 cup, boiled, chopped
Coconut Milk – 1 cup
Lemon Juice – 1 tblsp
Capsicums – 1 tblsp, chopped
Salt as per taste
Water as required
Oil – 1 tsp
For the Green Curry Paste:
Lemongrass – 5
Ginger Garlic Paste – 1 tblsp
Coriander Seeds – 1 tsp
Cumin Seeds – 1 tsp
Lemon Rind – 1 tsp, grated
Small Onions – 6
Coriander Leaves – handful, chopped
Green Chillies – 6
Method:
1. Combine and grind all the green curry paste ingredients smoothly.
2. Keep aside.
3. Heat 1/2 cup of water (adjust as required) in a pan.
4. Add the lemongrass stalks and boil for 2 minutes.
5. Add all the other vegetables and cover the pan with a lid.
6. Heat little oil in a pan.
7. Add the ground paste and stir well.
8. Add the vegetables (along with the water), salt and bring to a boil.
9. Add coconut milk and simmer for 5 minutes.
10. Add capsicums and remove from flame.
11. Cool and add the lemon juice.
12. Stir once and serve with rice or as a side dish.
Note: image is for illustration purposes only and not that of the actual recipe.