Idiyappam is a traditional South Indian breakfast or evening dish, especially in Tamil Nadu and Kerala.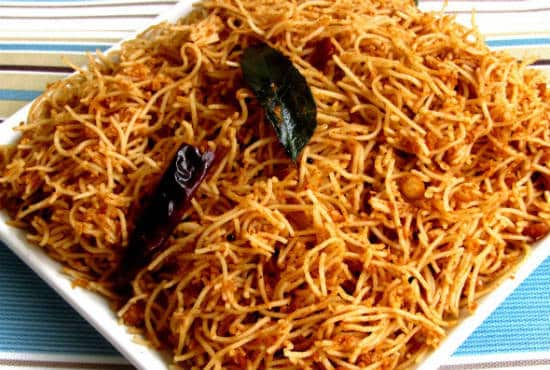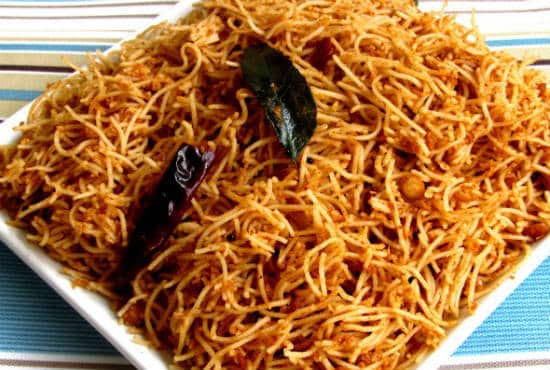 Ingredients:
Idiyappam Flour – 1 cup (available readymade)
Tamarind Extract – 1/2 cup, thick
Sambar Onions (Shallots) – 5 to 6, chopped
Turmeric Powder – a small pinch
Dry Red Chillies – 2
Bengal Gram Dal – 1/2 tsp
Urad Dal – 1/2 tsp
Asafoetida Powder – a small pinch
Mustard Seeds – 1/4 tsp
Oil – 2 tsp
Salt as per taste
Coriander Leaves – few
Curry Leaves – few
Method:
1. Heat oil in a pan.
2. Fry the mustard seeds, bengal gram dal, dry red chillies, urad dal and asafoetida powder for 30 to 45 seconds.
3. Add the chopped onions and saute for a minute.
4. Add the tamarind extract, turmeric powder and salt.
5. Stir well and simmer until thickened and oil starts to separate.
6. Remove from flame and keep aside.
7. Heat 1 1/2 cups of water over medium flame and bring to a boil.
8. Add the idiyappam flour and mix well without any lumps.
9. Remove from flame and mix until thickened, without any lumps.
10. Add some of the dough into a idiyappam maker and press over greased idly plates.
11. Steam cook until done and keep aside to cool.
12. Once cool enough to handle, crumble the idiyappams.
13. Add this to the tamarind mixture and mix well.
14. Garnish with coriander leaves and curry leaves.
15. Serve at once.