Manathakkali Keerai Paruppu Masiyal is a soupy curry made from the Manathakkali Keerai leaves. It can be served with hot steamed rice or rotis.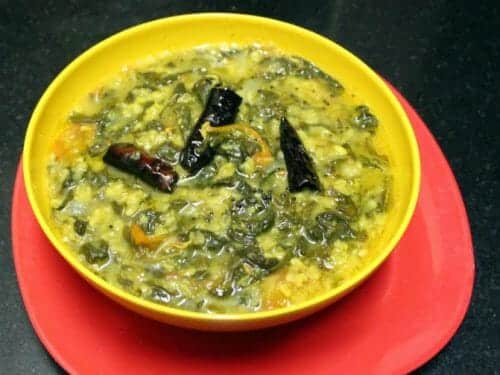 Keerai Masiyal is a popular South Indian (especially Tamil Nadu) dish and served with hot rice. Manathakkali Keerai (or known as Black Nightshade in English and Makoi in Hindi) is rich in nutrients with lots of medicinal properties. Consumption of manathakkali keerai improves digestion, treats constipation, ulcers, headache, skin infections and is good for pregnant women. Its leaves are rarely used in Indian cuisines but we see it in a couple of recipes in the traditional Tamil cuisines.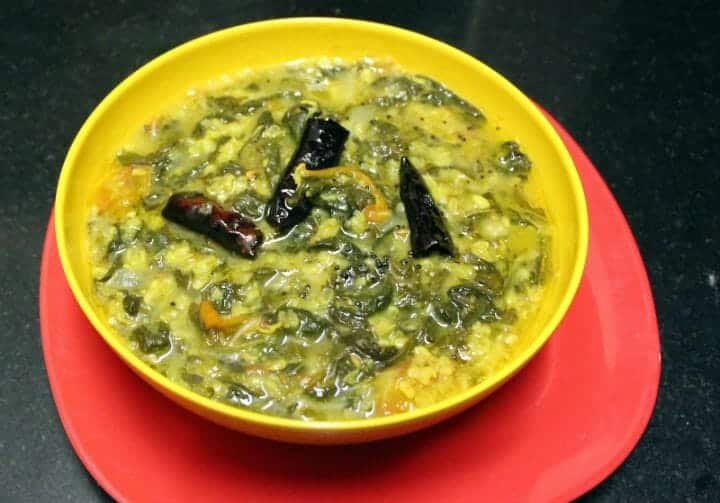 Manathakkali Keerai Paruppu Masiyal is a soupy curry made from the leaves. You can serve it with hot steamed rice or rotis and it is easy to cook as well.
People who suffer from mouth ulcer chew these leaves as it provides instant relief. It improves digestion, reduces headache and cures skin diseases as well. Moreover, it is also deemed to be healthy for pregnant women.
Ingredients such as moong dal, tomatoes, red chilies (dry), garlic, mustard seeds, etc. play an important role in this recipe. The Keerai is finely chopped and mashed in order to prepare a smooth curry which tastes wonderful and soupy.
Manathakkali Keerai Paruppu Masiyal can be also eaten as a side dish along with other traditional South Indian recipes such as rasam or hot curry. It is neither too spicy nor too plain but tastes rich and delightful at the same time. Some people mix it with ghee and rice as it blends well with both of them.
Use only the leaves and avoid the stem at all times as it is bitter to taste and will spoil the taste of your dish. Keerai is a bit hard to digest and therefore people who do not have a powerful digestive system must avoid this dish for dinners.
Do not forget to chop the Keerai leaves finely so that they get smoothly blended with the spices. Keerai leaves also provide relief from stomach irritation, muscle spasms, etc. and is also believed to be useful in handling nervousness.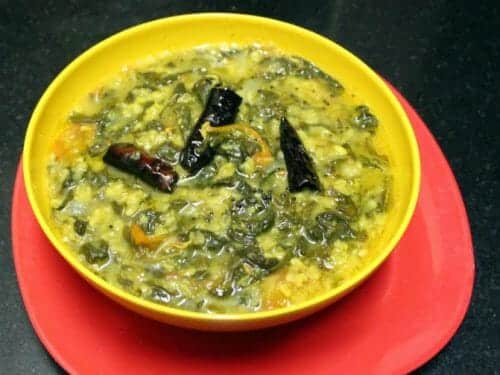 Manathakkali Keerai Paruppu Masiyal Recipe
Manathakkali Keerai Paruppu Masiyal is a soupy curry made from the Manathakkali Keerai leaves. It can be served with hot steamed rice or rotis.
Ingredients
2

Cups

Manathakkali Keerai

100

g

Moong Dal

4

Tomatoes

Ripe, red

4

cloves

Garlic

4

Dry Red Chillies

1

tsp

Mustard Seeds

Salt

As per taste

Oil

As required
Instructions
Clean, wash and finely chop the keerai.

Pressure cook the keerai, tomatoes, garlic and moong dal until 3 to 5 whistles, adding enough water.

When the pressure has reduced, open the lid.

Add salt as per taste and mash well.

Heat the oil in a frying pan.

Fry the red chillies and mustard seeds.

Pour this over the masiyal and stir once.

Serve with hot rice.
Frequently Asked Questions about Manathakkali Keerai Paruppu Masiyal
What is Manathakkali Keerai, and where can I find it?
Manathakkali Keerai, or Black Nightshade or Sunberry Greens, is a nutritious leafy vegetable widely used in South Indian cuisine. It has small, dark green leaves that taste slightly tangy and bitter. You can usually find Manathakkali Keerai in Indian grocery stores or local markets specialising in fresh produce. Suppose you cannot find fresh Manathakkali Keerai. In that case, you can also look for dried or frozen versions of the greens, which can be equally delicious in this recipe.
Can I substitute Manathakkali Keerai with other greens?
Suppose you cannot find Manathakkali Keerai or prefer a different green. You can substitute it with other leafy vegetables like spinach, amaranth leaves (Arai Keerai), or even drumstick leaves (Murungai Keerai). While the flavour profile will vary slightly, the dish's essence remains intact. Feel free to experiment with different greens to discover new flavours and textures in your Paruppu Masiyal.
Can I make Manathakkali Keerai Paruppu Masiyal without adding lentils?
Although lentils play a significant role in the traditional preparation of Paruppu Masiyal, you can adapt the recipe to suit your preferences. If you wish to make a version without lentils, you can omit them and focus on the greens and spices. The resulting dish will have a lighter texture but will still be packed with greens and aromatic spices flavours. You can also explore other variations of Masiyal, such as Murungai Keerai Masiyal (Drumstick Leaves Masiyal), which doesn't include lentils but highlights the unique taste of the greens.
Can I store Manathakkali Keerai Paruppu Masiyal?
Yes, you can store Manathakkali Keerai Paruppu Masiyal for later consumption. After preparing the dish, allow it to cool down to room temperature. Transfer it to an airtight container and refrigerate. It will stay fresh for 2-3 days. Before consuming, reheat the Masiyal on the stovetop or microwave until heated. The flavours develop and deepen over time, making the leftovers even more delicious. Just consume it within the recommended time frame to ensure its freshness.
What are some suitable accompaniments for Manathakkali Keerai Paruppu Masiyal?
Manathakkali Keerai Paruppu Masiyal pairs wonderfully with steamed rice or as an accompaniment to South Indian meals. Enjoy a dollop of ghee (clarified butter) on top for added richness. Additionally, it complements dishes like Sambar, Rasam, and Mor Kuzhambu, creating a harmonious combination of flavours. If you prefer a complete vegetarian meal, serve the Masiyal alongside papad (papadum) and a vegetable stir-fry (Poriyal). The variety of these dishes will provide a well-rounded and satisfying dining experience.