Janmashtami is a larger than life festival in India. Learn about its significance, the celebrations, and 8 most-loved dishes to enjoy on this auspicious day.
The Festival of Lord Krishna
In a cosmic dance with the number 8, Lord Vishnu took the form of Krishna and tumbled forth into Earth nearly 5000 years ago and gave us all a cosmic reason to celebrate this uber-auspicious day. Krishna Janmashtami, Gokul Ashtami, Krishnasthami, Krishna Jayanthi – all pan-India synonyms of this day signify the win of good over evil.
Here is a tidbit about Krishna:
he's the 8th incarnation of Lord Vishnu, he was the 8th son of Devaki and Vasudeva, he was born on the 8th day (Ashtami) of the Krishna Paksha (dark fortnight) and he had 80 sons from 8 wives!
And here, we'll talk about 8 Sri Krishna Janmashtami recipes that we love to make, eat, and enjoy.
Significance of Krishna Janmashtami
The Bhagavad Gita, one of the holiest texts of the Hindu religion, contains an excerpt that says whenever evil takes over the world and there is a decline in religion, Krishna would reincarnate to combat evil and put humanity back on to the right path. This implies that the onus is on us to promote goodwill and discourage bad will. The playful god's birthday also signifies togetherness, a day when families, friends, relatives, and coworkers round up and celebrate with colors, flowers, and of course – food!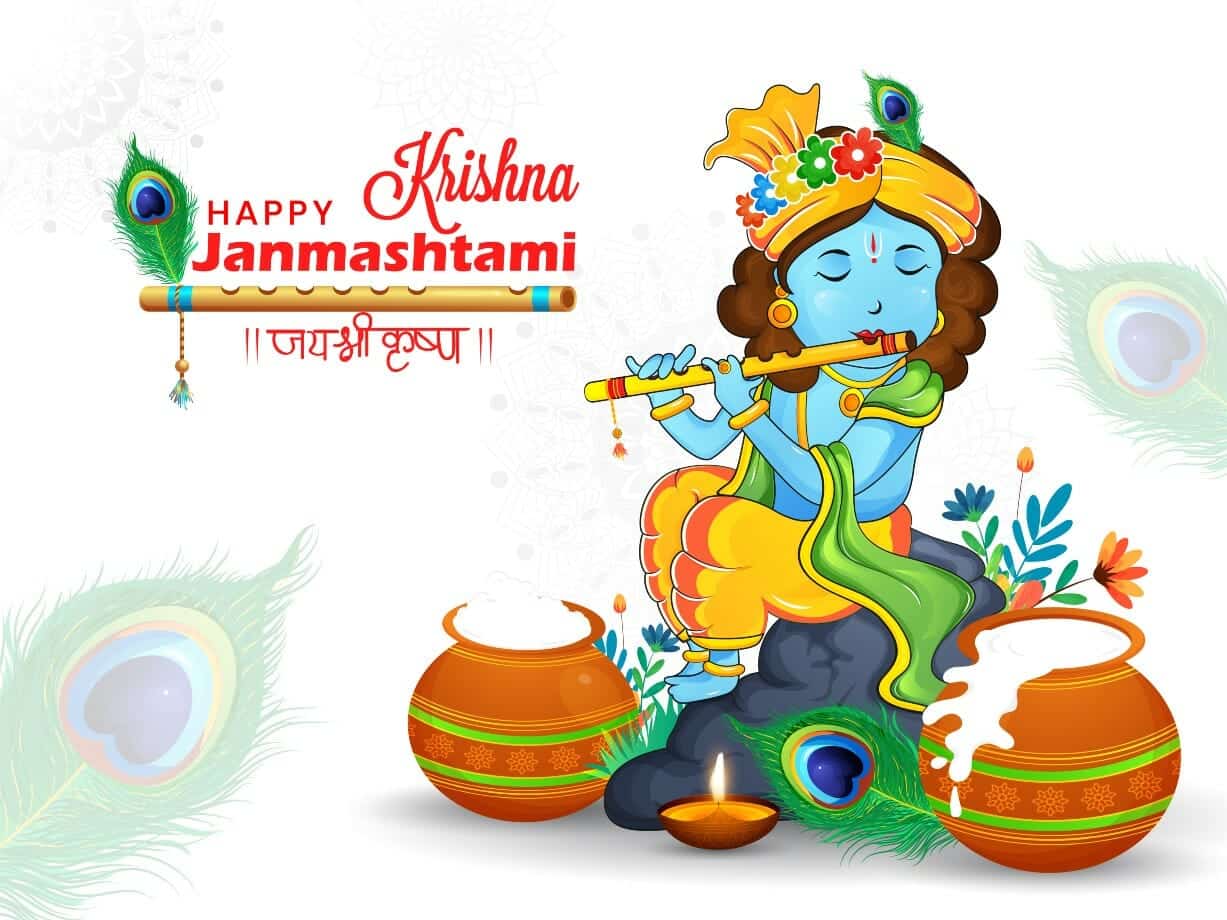 How is Janmashtami Celebrated?
Sounds of Krishna's devotional songs, sights of small kids scampering around the home and on the streets dressed up as Krishna and Radha, and smells of Krishna's favorite sweets and savories aptly portray a typical Janmashtami morning. Here's a lowdown of how the day spreads happiness and grace across the country:
All-India & Abroad: Home entrances are decorated intricately with rangoli, and in South India, people notch it up by imprinting their floors with the footsteps of Krishna. The Janmashtami Pooja highlights the day with its significance, power, and participation of all family members. People even dress up and jewel-up Lord Krishna's idol and offer prayers. All the fanfare though, comes from the kitchen… but more on that a little later.
Dwarka, Mathura, & Vrindavan: If there's a place to soak in all the festivities of Janmashtami, then it's in any one of these 3 places in India. The vibes in these quaint towns are undeniably holy and incredibly celebratory. Mathura, Krishna's birthplace and Vrindavan, where he spent most of his childhood, both host a bevy of celebrations – from Raas Leelas and lighting lamps to Krishna idol bathing and temple visits. Meanwhile, Dwarka (where Krishna was taken to shortly after birth) ushers in a holy amalgamation of prayers, sumptuous feasts, and Krishna idol makeovers.
Maharashtra: Ever heard of Dahi-Handi? On Janmashtami, the streets of Maharashtra are usually dotted with children dressed as Govinda with saffron-colored headbands and running around gleefully chanting "Govinda Alaa Re". Dahi-Handi is an enactment of Lord Krishna stealing butter from earthen pots that are hung at a height, and people make a human pyramid to reach it and try and break it. This is performed in many parts of the state to remember the sweet naughtiness of Krishna.
South India: Down south, Gokul Ashtami means a day of deep reverence to Lord Krishna, but also a day of fun and enthusiasm. Kolams (Rangoli) are smeared across the different parts of the house and hymns are offered at home and across temples. If you find lip-smacking odors of Seedai, Murukku, and Kheer wafting from the Kitchen, then you know Janmashtami is going to be great!
Top 8 Dishes to Sweeten & Spice Up Janmashtami
Food is a quintessential part of any Indian festival, and Janmashtami doles out a plethora of dishes – both sweet and savory, milk-based and flour-based, mouth-watering and satisfying. Here is our pick of the top 8 Krishna Jayanthi recipes that you can try at home and put huge smiles on your friends' and families' faces:
Kheer: Sweet, scrumptious, and super-easy to make, Kheer an all-round country favorite on Janmashtami. It's unbelievable how a potful of milk, rice, sugar, ghee, cashew, raisins, and cardamom powder can bring out such a delightful dessert. Pal Payasam, as it's fondly called in South India, is mandatory on this day, and when topped off with shards of saffron, it literally tastes like heaven.
Makhan Mishri: When you make the Lord's favorite, then your blessings are doubled (or so legend says). Makhan Mishri is Krishna's favorite – a mixture of fresh butter, cream, Mishri/Kalkandu (rock sugar), some ice cubes, and 2 mint leaves. Remember to first offer it to the Lord before distributing the prashad to others.
Gopalkala: A Janmashtami recipe that's as refreshing as it's simple to make, Gopalkala brings together soaked rice (or poha), cucumber, yoghurt, and spices. Consume it during lunch or after a heavy dinner and discover its digestive and cooling effects.
Peda: Take it to the next level with Milk Peda, a dish that Lord Krishna absolutely adores. Milk khoya, powdered sugar, and cardamom powder are blended, dropped into cookie molds, and pressed on top with pistachios for a heavenly dessert that often sweet-tooths treat as a snack.
Puli Aval: Serve up a smash hit this Krishnashtami with Puli Aval, a crowd-puller in South India. It's made with rice/poha, tamarind, some Bengal gram and urad dal and spices. As the legend goes, the strong friendship between Krishna and Sudhama was proven when the former gave Sudhama a handful of poha, and he went on to become super-wealthy.
Murukku: It's Murukku galore on Gokul Ashtami in South India. You will lose count of how many recipes are in the murukku idea stockpile: Mullu Murukku, Butter Murukku, Spicy Murukku, Moong Dal Murukku, Murukku Thenkuzhal… it goes on. Made from various types of flours, Murukku is a fried crunchy snack that is loaded into large steel containers on this day and enjoyed for weeks later!
Vella Seedai / Uppu Seedai: Take 2 cups of rice flour, 1.5 cups of jaggery, some grated coconut, 1 teaspoon of urad dal, a dollop of butter, and a pinch of cardamom powder and follow a short procedure to end up with balls of Vella Seedai. Just replace the rice flour with raw rice, and jaggery with Bengal gram dal to make Uppu Seedai. These balls are crowd-favorites in the south and are offered as Prasadam for Lord Krishna.
Thattai: The crispy, deep-fried, appetizing, versatile, and savory snack Thattai is a Tamil Nadu homegrown recipe. It partners with Uppu Seedai and Murukku to create a heavenly snack platter for any Janmashtami.
Bring it all together
Janmashtami can really take the wind out of foodies because of the assortment of recipes available. Although most of them are fairly easy to make, it can be quite hard to find a one-stop-place for instructions to prepare all the above-mentioned dishes. Check out Awesome Cuisine, where you can get them all and more! Also, please remember to first offer these foods to Lord Krishna and then you can devour them all day long.