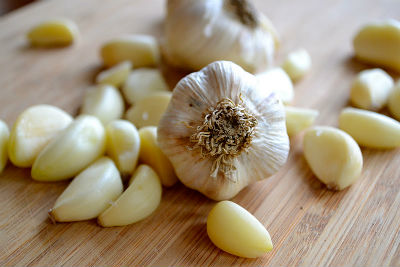 Ingredients:
Garlic – 125 gms, whole, large cloves
Curry Leaves – 3
Red Chilli Powder – 1/2 tsp
Turmeric Powder – 1/4 tsp
Coconut Milk – 3/4 cup, thick
Lemon Juice – 1 1/2 tsp
Salt as per taste
Small Onions – 5, whole
Green Chillies – 4, slit lengthwise into two
Ghee – 1/4 cup
Fenugreek Seeds – 1/2 tsp
Method:
1. Heat ghee in a pan over moderate flaame.
2. Fry the small onions, garlic cloves and green chillies till light golden.
3. Remove and keep aside.
4. To the same pan, add curry leaves and fenugreek seeds.
5. Fry till fenugreek starts to crackle.
6. Reduce flame and add red chilli and turmeric powders.
7. Stir and pour the coconut milk.
8. Add salt and bring to a boil.
9. Add the garlic, onions and green chillies.
10. Cook till garlic becomes tender.
11. Just before serving, add the lemon juice and stir.
12. Serve warm or hot.
Note: image is for illustration purposes only and not that of the actual recipe.