Awadhi Style Mushroom Paneer Masala, also known as Dhingra Dolma, is a rich and indulgent Indian dish perfect for a cosy dinner or a special occasion.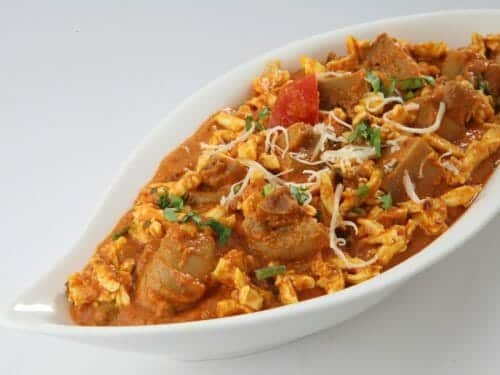 Dhingra Dolma, also known as Awadhi Style Mushroom Paneer Masala, is a mouth-watering Indian dish that blends the earthy flavours of mushrooms with the creamy texture of paneer in a rich and aromatic gravy. This Awadhi-style delicacy has a perfect balance of spices. It is known for its creamy texture and unique blend of flavours.
The dish originates from Awadhi cuisine, known for its rich and indulgent dishes. The mushroom and paneer combination is popular in Indian cooking. This recipe takes it to the next level with a blend of aromatic spices and rich gravy.
If you are a fan of vegetarian curries, this dish is a must-try. It's perfect for a cosy dinner with family and friends or a special occasion. Serve it with rice, naan, or roti, and enjoy the heavenly flavours of this dish.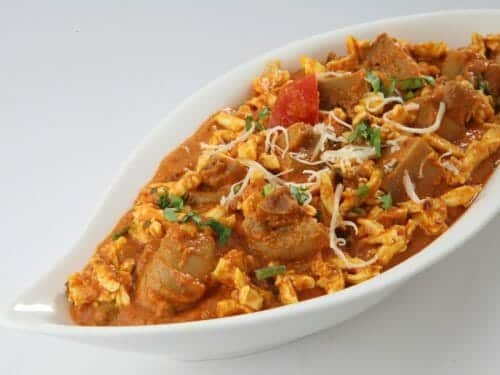 Dhingri Dolma

Recipe

Awadhi Style Mushroom Paneer Masala, also known as Dhingra Dolma, is a rich and indulgent Indian dish perfect for a cosy dinner or a special occasion.
Ingredients for
Dhingri Dolma
200

g

Paneer

grated

400

g

Mushrooms

cleaned, washed, halved

2

Onions

finely chopped

4 to 5

Tomatoes

chopped

2

tbsp

Ginger Garlic Paste

2

tsp

Green Chillies

finely chopped

2

tsp

Cumin Seeds

1/4

tsp

Turmeric Powder

2

tsp

Red Chilli Powder

1

tsp

Black Pepper Powder

1

tsp

Garam Masala Powder

1/4

cup

Butter

3

tbsp

Cashew Nuts

soaked and ground to a paste

as per taste

Salt

handful

Coriander Leaves
How to make
Dhingri Dolma
Heat butter in a pan over medium flame.

Add the onions, cumin seeds, green chillies, ginger garlic paste and cashew nut paste.

Stir and saute for a minute.

Add the tomatoes, mushrooms and the masala powders.

Mix well and cook for 3 to 4 minutes.

When it starts to simmer, add the paneer and salt.

Stir well and cook for a minute more.

Remove and garnish with coriander leaves.

Serve hot with roti, chapati, naan or pulao.
Frequently Asked Questions about Dhingri Dolma
How can I make this recipe vegan-friendly?
To make this recipe vegan-friendly, substitute paneer with tofu or tempeh and use plant-based yoghurt instead of regular yoghurt. You can also use coconut cream instead of heavy cream to give the dish a creamy texture. This vegan version of Dhingri Dolma will still have the same fantastic taste and aroma without animal products.
Can I make this recipe spicy?
You can make this recipe spicy by adding more red chilli powder or green chillies. Adjust the spiciness according to your taste preference. You can also add some black pepper or cumin powder to enhance the dish's flavour. If you do not like spicy food, you can reduce the chilli powder or omit it entirely.
What can I serve with Dhingri Dolma?
Dhingra Dolma goes well with naan, roti, paratha, or bread. You can also serve it with steamed rice or pulao. You can serve the dish with a simple salad or raita on the side to balance the dish's richness. For a complete Indian meal, you can also serve it with other dishes like dal, aloo gobi, or chana masala.
How long does it take to cook Dhingri Dolma?
The cooking time for Dhingri Dolma is around 30-40 minutes. The preparation time may take longer, especially if you are making paneer from scratch. To save time, you can use store-bought paneer and canned tomato puree. The dish can also be made ahead of time and reheated before serving.
Can I use other vegetables instead of mushrooms in this recipe?
Yes, you can use other vegetables like potatoes, cauliflower, or bell peppers in this recipe. However, mushrooms add a unique flavour and texture to the dish, so using them for authentic taste is recommended. Suppose you want to experiment with other vegetables. In that case, you can try other mushroom-based recipes like mushroom tikka masala or mushroom biryani.