A delicious and classic Indian Omelette with spices, onions, tomatoes and capsicum. Perfect for a slow, lazy week day or weekend.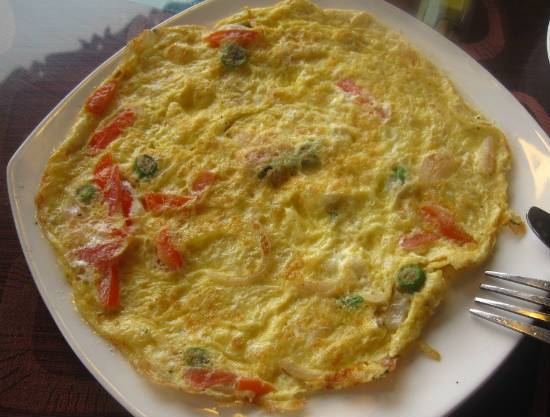 Ingredients:
Eggs – 4, beaten
Oil – 2 tsp
Spring Onions – 2, finely sliced
Green Chillies – 4 or as required, chopped
Garlic – 2 cloves, finely chopped
Turmeric Powder – 1/2 tsp
Coriander Powder – 2 tsp
Cumin Powder – 2 tsp
Red Chilli Powder – 1/2 tsp
Method:
1. Heat oil in a pan over medium flame.
2. Add the spring onions, green chillies, garlic and turmeric powder.
3. Fry for a minute or two.
4. Add all the other ingredients except the eggs.
5. Stir to mix well.
6. Now add the eggs and swirl them around.
7. Cook till the omelette is set.
8. Transfer to a serving plate.
9. Garnish with coriander leaves, if desired.
10. Serve hot with coriander chutney or as is.