Masala Vadai is a popular South Indian snack typically served as a starter or as an evening snack. This variation is made using mutton keema. Serve with chutney or sauce.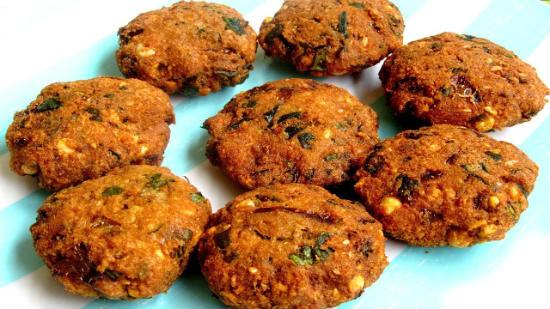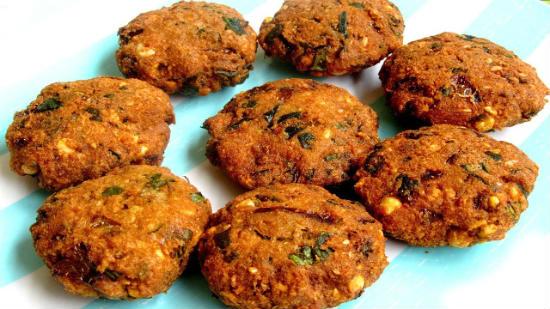 Ingredients:
Bengal Gram Dal – 200 gms
Mutton Kheema – 150 gms, boneless
Onions – 100 gms, finely chopped
Water – 500 to 600 ml (about 2 1/2 cups)
Saunf – 3/4 tsp
Black Peppercorns – 3/4 tsp
Curry Leaves – few
Coriander Leaves – few, chopped
Turmeric Powder – 1/2 tsp
Salt as per taste
Oil as required
Method:
1. Soak the dal in enough water for 4 to 6 hours or overnight.
2. Wash the mutton keema and keep aside.
3. Heat a large pan over medium flame.
4. Add the keema, salt, turmeric powder and mix well.
5. Pour the water and stir well.
6. Simmer until all water has evaporated and remove from flame.
7. Allow the mutton to cool.
8. Drain water from the dal and grind to a coarse paste with saunf and peppercorns.
9. Add onions, salt, coriander leaves, curry leaves and mutton to the ground dal.
10. Mix well.
11. Make small balls and flatten them to small discs.
12. Heat oil in a deep frying pan.
13. Fry the prepared vadais on both sides until golden brown.
14. Remove and drain excess oil.
15. Serve as a snack with chutney or sauce.