A simple and delicious breakfast omelette with grated paneer (cottage cheese).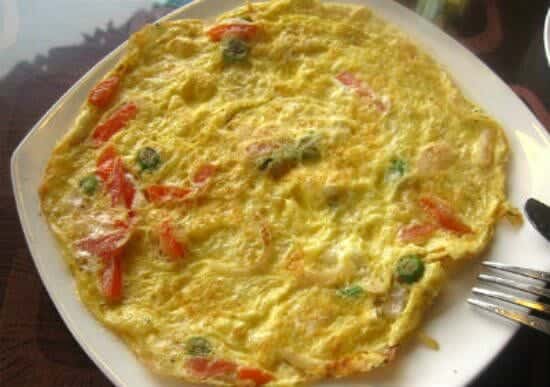 Ingredients:
Paneer (Cottage Cheese) – 1 cup, grated
Eggs – 3 to 4
Onions – 3 to 4, finely chopped
Green Chillies – 4, finely chopped
Pepper Powder – 2 tblsp
Cumin Powder – 2 tblsp
Turmeric Powder – a pinch
Coriander Leaves – few
Salt as per taste
Oil – 2 tblsp
Method:
1. Break the eggs and keep aside.
2. Add salt, turmeric powder, pepper powder and cumin powder.
3. Beat well.
4. Heat oil in a pan.
5. Add the onions, green chillies and coriander leaves.
6. Saute for 2 minutes and add the paneer.
7. Stir well and cook for a minute more.
8. Add this to the egg mixture and stir gently.
9. Heat a nonstick tawa over medium flame.
10. Pour some of the mixture and cook on both sides or until set.
11. Remove and serve at once.