A delicious and healthy breakfast dish. A great way to start the day.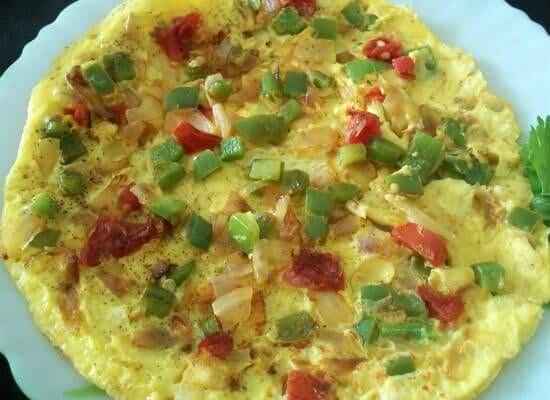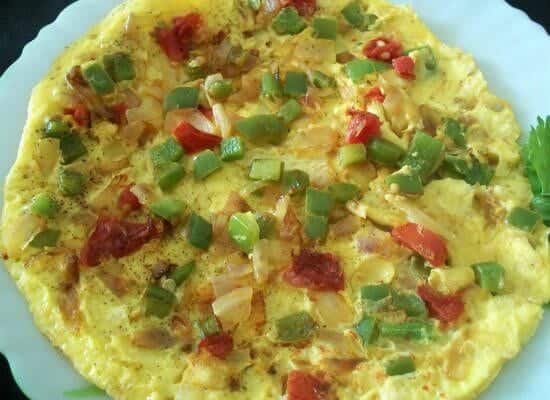 Ingredients:
Eggs – 5 to 6
Onion – 1, finely sliced
Red Chilli Flakes – 1/2 tsp
Baby Spinach Leaves – 1/2 cup, chopped
Tomato – 1/4 cup, chopped (optional)
Capsicum – 1/2 cup, sliced
Oil as required
Method:
1. Heat a little oil in a pan over medium flame.
2. Add the capsicums and stir-fry until lightly browned.
3. Remove the capsicums from the pan and keep aside.
4. To the same pan, add some oil and saute the onions for a minute or two.
5. Sprinkle red chilli flakes and stir well.
6. Remove and keep aside.
7. Break the eggs in a bowl and lightly whisk.
8. Heat a tawa over medium flame.
9. Pour some of the egg and tilt the pan until evenly spread.
10. Sprinkle some spinach leaves and top up with onions, tomatoes and capsicum.
11. Cook for 2 to 3 minutes or until just set.
12. Cover the pan with a lid, increase flame and cook until golden.
13. Remove and serve as a breakfast dish.
Tip: At step #12, ensure that the bottom does not get burnt.