Oats Chilla is a healthy, delicious and easy to make breakfast dish. Similar to a dosa and more like a mini-dosas, these are great for evening snacks or even as lunch/dinner for the health conscious folks.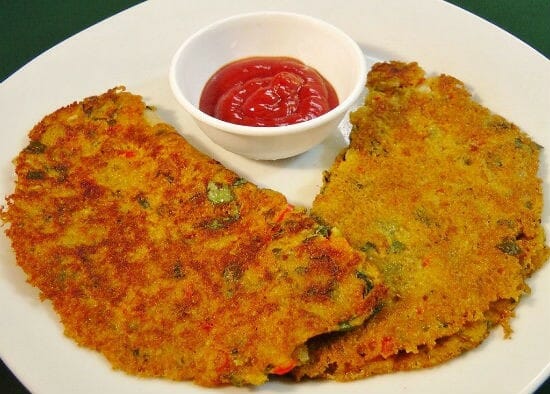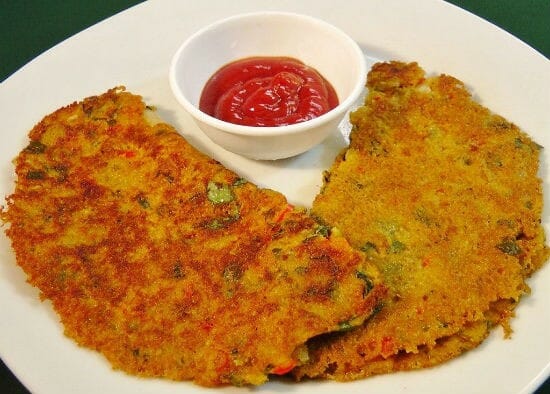 Ingredients:
Gram Flour – 1 cup
Oats – 1/2 cup
Onion – 1, finely chopped
Carrot – 2 to 3 tsp, grated
Cabbage – 3 tsp, finely chopped
Green Chillies – 2, finely chopped
Ginger – 1/4 tsp, finely chopped
Asafoetida Powder – a pinch
Turmeric Powder – 1/4 tsp
Oil as required
Salt as per taste
Method:
1. Heat a pan over medium flame.
2. Gently roast the oats until golden.
3. Remove and grind to a powder.
4. Combine the gram flour, oats powder, salt and asafoetida powder in a bowl.
5. Add enough water and mix to a dosa batter consistency.
6. Add the green chillies, onions, ginger, carrot and cabbage.
7. Add tuermeric powder and mix well.
8. If the batter is too thick, add a little water and mix well.
9. Heat a tawa over medium flame.
10. Pour a ladleful of the batter and spread evenly. Do not make it big like a dosa.
11. Cook on both sides and remove.
12. Serve with sauce or green chutney.