A simple and delicious lunch recipe with tomatoes, capsicums and onions. Best served with onion raita.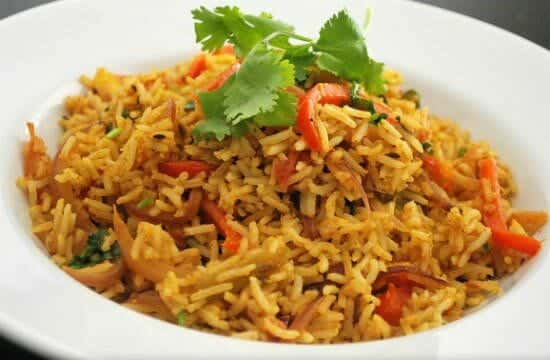 Ingredients:
Basmati Rice – 1 cup
Onions – 1/2 cup, finely sliced
Tomatoes – 2 cups, chopped
Green Chilli – 1, finely chopped
Capsicum – 1 cup, coarsely chopped
Turmeric Powder – 1/4 tsp
Garam Masala – 1/2 tsp
Salt – 1 tsp
For Tempering:
Oil – 1 tblsp
Ghee – 1 tblsp
Cinnamon Sticks – 3 one inch pieces
Bay Leaf – 1
Cumin Seeds – 1/2 tsp
Fennel Seeds – 1/2 tsp
For Garnish:
Cashewnut – 1/4 cup, halved
Red Onions – 1/4 cup, finely sliced
Method:
1. Wash the rice, drain and cook it in 2 cups of water.
2. Set aside.
3. For the tempering, add the oil and ghee in a frying pan over medium heat.
4. When the oil is hot, add the cinnamon sticks, bay leaf, cumin seeds and fennel seeds.
5. Fry over medium heat till the seeds are brown.
6. Add the onions, tomatoes and green chilli.
7. Stir-fry for a couple of minutes.
8. Add the capsicum, turmeric powder and garam masala powder.
9. Mix well.
10. Cook covered over medium heat, stirring occasionally, till the capsicum is slightly tender for about 45 seconds to a minute.
11. Stir in salt and add the cooked rice.
12. Stir gently over low heat.
13. Remove from heat.
14. Garnish with cashew nuts and red onions.
15. Mix the rice gently before serving.