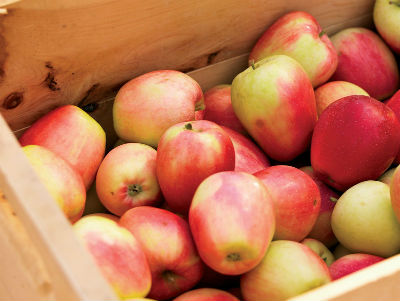 Ingredients:
Apples – 2, large, peeled, cored, sliced thinly
Butter – 4 tbslp
Brown Sugar – 1/4 cup
Cinnamon Powder – 1 tsp
Eggs – 4
Granulated Sugar – 1/4 cup
Cream of Tartar – 1/4 tsp
Icing Sugar – 1 tblsp
Method:
1. Heat butter in a pan over low heat.
2. Saute the apples for 4 to 5 minutes.
3. Mix brown sugar and cinnamon.
4. Sprinkle over the apples and saute for another 8 to 10 minutes until they caramelize.
5. Spoon the caremelized mixture into a square baking dish and keep hot in a preheated oven at 450F.
6. Separate the eggs.
7. Whisk the yolks and granulated sugar till thick.
8. Beat the egg whites with tartar until stiff and shiny.
9. Add this to the yolks.
10. Pour the egg mixture over the apples and bake for 10 minutes.
11. The omelette will be puffed and golden.
12. Remove and sprinkle icing sugar on top.
13. Serve.
Note: image is for illustration purposes only and not that of the actual recipe.