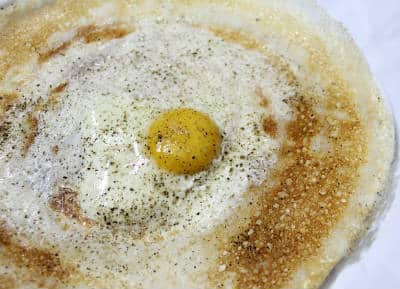 Ingredients:
Urad Dal – 1 cup
Parboiled Rice – 1 cup
Eggs – 1 for each dosa
Vendhayam (Fenugreek Seeds) – 3/4 tsp
Salt as per taste
Black Pepper Powder as per taste
Oil as required
Method:
1. Soak the dal, rice and fenugreek seeds for 3 to 4 hours.
2. Then grind to a semi-thick batter.
3. Cover and keep aside to ferment for 8 hours.
4. Add salt and mix well.
5. Heat a tawa over medium flame.
6. Pour a ladleful of the batter and spread evenly.
7. Break one egg and spread it a little.
8. Sprinkle salt and pepper powder on top of the egg.
9. Apply oil around the edges.
10. Cook till the egg is set and the dosa is light golden brown.
11. Serve hot with chutney and sambar of choice.