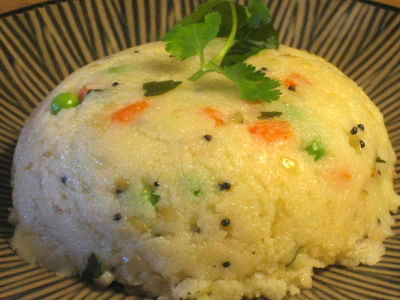 Ingredients:
Rice Flour – 100 gms
Onion – 1 cup, finely chopped
Asafoetida Powder – a pinch
Mustard Seeds – 1 tsp
Urad Dal – 1 tsp
Red Chilli Powder – 1/2 tsp
Oil – 100 ml
Sour Curd – 100 ml
Salt as per taste

Method:
1. Combine the rice flour, sour curd and salt.
2. Mix well to a thick mixture.
3. Heat oil in a pan.
4. Fry the mustard seeds and urad dal for 45 to 60 seconds.
5. Saute the onions.
6. Add asafoetida powder and red chilli powder to the rice flour – curd mixture.
7. Add this to the pan and cook till it starts to have a regular upma consistency.
8. Stir well.
9. Serve hot.
Tip: You can also add chopped carrots and green peas if desired.
Note: image is for illustration purposes only and not that of the actual recipe.