Keema Dosa is a popular variation of the regular Dosa. Made with a filling of minced meat (Keema), it is delicious and tasty.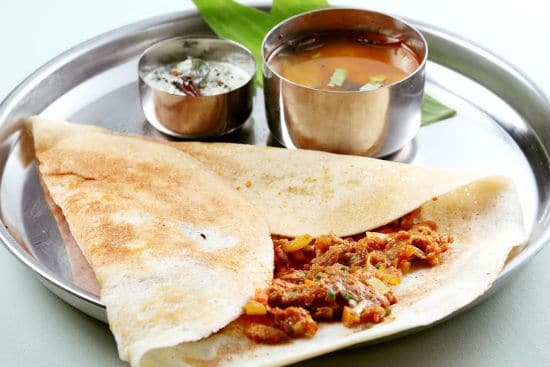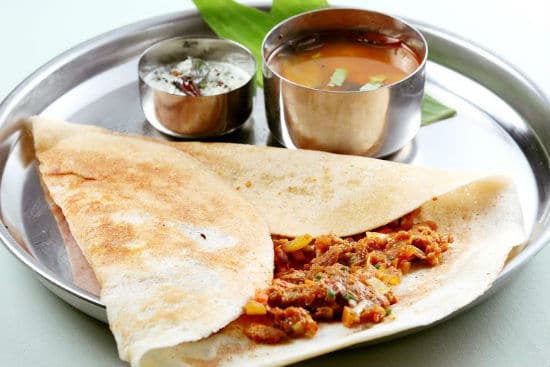 Ingredients:
Dosai Batter as required
Keema – 1 cup
Onion – 1 cup, chopped
Tomato – 1/2 cup, chopped
Green Chilli – 3 to 4, finely chopped
Garam Masala – 2 tsp
Peas – 1/2 cup
Ginger Garlic Paste – 2 tsp
Coriander Leaves
Mint Leaves
Salt as per taste
Turmeric Powder – 1/2 tsp
Method:
1. Heat oil in a pan.
2. Add onion, coriander, mint leaves and fry for a minute.
3. Add green chilli and ginger garlic paste.
4. Fry for 2 minutes.
5. Add the tomatoes, peas and keema.
6. Mix nicely.
7. Add salt and turmeric powder.
8. Mix well and add garam masala powder.
9. Close it with a lid.
10. Keep on low flame and once it has become dry, remove.
11. Take one ladleful of the dosa batter.
12. Pour it onto a preheated tawa and spread evenly.
13. Pour a tsp of oil around it.
14. Keep the prepared keema mixture in the centre and roll the dosa.
15. Serve hot with chutney and sambar.