A delicious and healthy roti made with wheat flour and dal.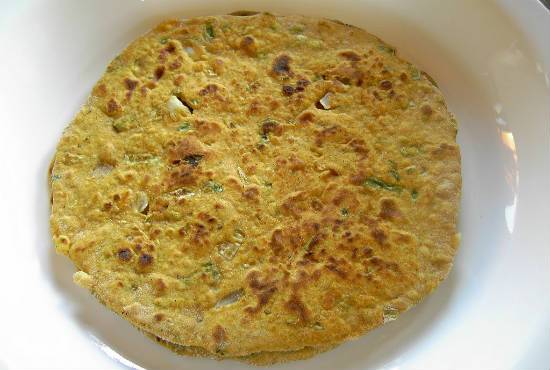 Ingredients:
Wheat Flour – 1 cup
Moong Dal – 1/4 cup
Red Chilli Powder – 1 tsp
Garam Masala Powder – 1 tsp
Cumin Powder – 1 tsp
Coriander Powder – 1 tsp
Turmeric Powder – 1/4 tsp
Salt as per taste
Oil as required
Method:
1. Heat 1 cup of water in a pan and remove from flame.
2. Add the moong dal and cover the pan with a lid.
3. Keep aside for 15 minutes.
4. Drain and reserve the water.
5. Combine wheat flour, salt, turmeric powder, 1 tsp oil, red chilli powder, coriander powder, cumin powder, garam masala powder and moong dal in a bowl.
6. Add the reserved water and mix well to a chapati dough consistency.
7. Make small balls of the dough and roll them into medium size rotis.
8. Heat a tawa over medium flame.
9. Cook the prepared rotis on both sides and remove.
10. Serve.