Kanchipuram Idli is a very popular and traditional dish often made for breakfast. This is a small variation to the regular Kanchipuram Idlis.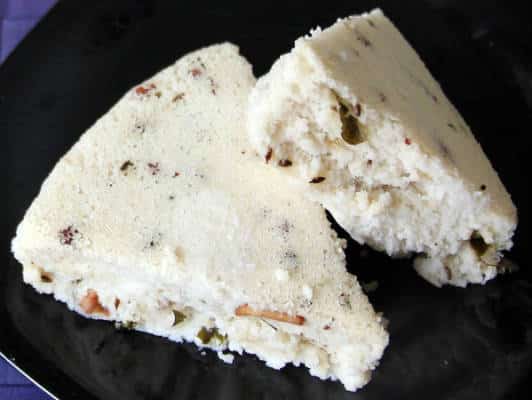 Ingredients:
Idli Rice (Parboiled Rice) – 1 cup
Raw Rice – 1 cup
Whole Urad Dal – 1 cup
Peppercorns – 2 tsp
Cumin Seeds – 2 tsp
Cooking Soda – a pinch
Dry Ginger Powder – 1 tsp
Thick Curd – 500 ml
Cashew Nuts – few, fried
Curry Leaves – few, fried
Ghee – 3 tsp
Salt as per taste
Method:
1. Soak the idli rice, raw rice and dal for 2 hours, separately.
2. Combine them together and grind to a thick coarse batter.
3. Keep aside to ferment for 6 to 8 hours or overnight.
4. Add dry ginger, ghee, peppercorns, cumin seeds, cooking soda, salt, curd, cashewnuts and curry leaves.
5. Mix well.
6. Pour the batter into a small 1 inch plate and pressure (steam) cook until done.
7. Insert a knife into the center and if it comes out clean, then it is done.
8. Remove and cut into slices.
9. Serve as it is or with side dish of choice.
Tip: If desired, use an Idli maker.
image via flickr / great secret of life