Egg Bhurji is a very popular breakfast dish across India. Also known as Indian scrambled eggs, it is a great way to start your day. Loaded with nutrition, the Egg Bhurji is a simple and delicious dish to make.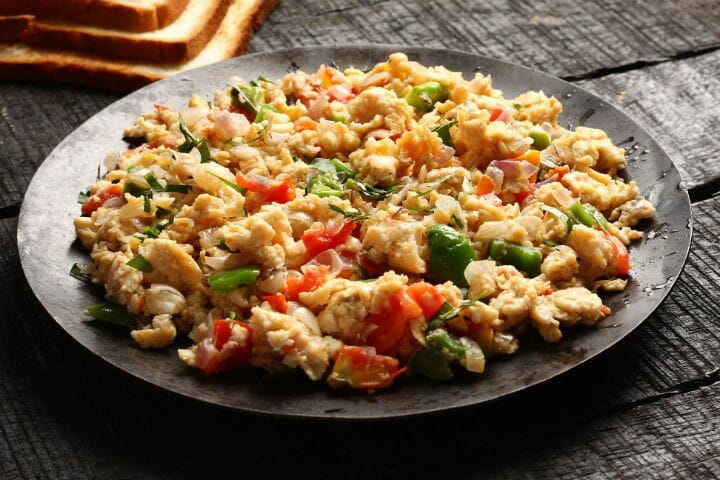 Ingredients
Eggs – 2
Onion – 1, finely chopped
Tomato – 1, chopped
Green Chillies – 1 to 2, finely chopped
Coriander Leaves – handful, chopped
Ghee – 3 tsp
Cumin Powder – 1/2 tsp
Red Chilli Powder – 1/2 tsp
Garam Masala Powder – 1/2 tsp
Turmeric Powder – 1/2 tsp
Salt as per taste
Method:
Break the eggs into a large bowl and whisk well.
Heat ghee in a pan over medium flame.
Add the cumin powder, chopped onions and green chillies.
Saute for 2 to 3 minutes or until onions turn golden.
Add the tomatoes and cook for a minute.
Add the red chilli powder, garam masala powder and turmeric powder.
Add some salt and mix well.
Pour the beaten eggs and mix well.
Keep stirring till the eggs are cooked.
Garnish with coriander leaves.
Serve.