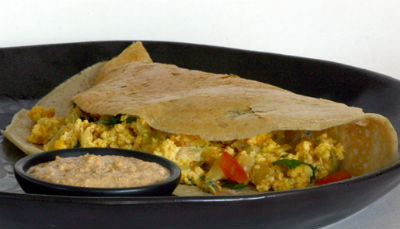 Ingredients:
Dosa Batter as required
Eggs – 4
Onions – 2, chopped
Tomato – 1, chopped
Paneer – 1/2 cup, crumbled
Red Chilli Powder – 1/4 tsp
Turmeric Powder – 1/4 tsp
Cinnamon – 2
Coriander Leaves – 1 bunch
Salt as per taste
Oil – 2 tsp
Method:
1. Heat oil in a pan over medium flame.
2. Add the cinnamon and onions.
3. Fry until the onions turn golden.
4. Add the tomatoes, turmeric powder, red chilli powder and salt.
5. Stir-fry for a minute and add the paneer.
6. Break the eggs into the pan and stir-fry until well combined.
7. Cook until the eggs are done.
8. Garnish with coriander leaves and remove from flame.
9. Heat a tawa over medium flame.
10. Pour a ladleful of the dosa batter in the center and spread evenly.
11. Apply oil around the edges.
12. Cook until the bottom turns golden brown and dosa is well cooked.
13. Add a spoonful of the egg-paneer mixture to the one half of the dosa and cover with the other half. Cook for 30 seconds.
14. Remove.
15. Serve hot with chutney and sambar of choice.
image credit: jugalbandi.info