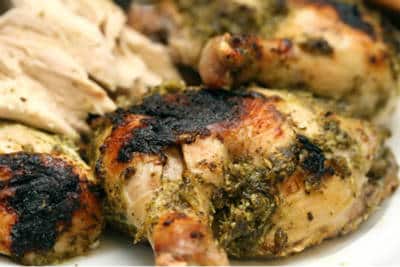 Ingredients:
Chicken – 750 gms, back bone removed, cut into 2
Garlic – 1 clove, crushed
Lime Juice – 2 tblsp
Lime Rind – 1/2 tblsp, finely grated
Sea Salt – 1/2 tblsp
Coriander Powder – 1/2 tsp
Extra-Virgin Olive Oil – 2 tsp
Mayonnaise – 1/4 cup
Coriander Leaves – handful, finely chopped
Method:
1. To make the marinade, mix the lime rind, 1 tblsp lime juice, salt, garlic, pepper powder and coriander powder in a bowl.
2. Make a few deep incisions on the chicken halves.
3. Place the chicken on a greased baking tray.
4. Rub the marinade all over the chicken and place it in a preheated oven at 225C/400F.
5. Bake for 20 to 25 minutes or until the chicken is cooked through.
6. Mix the mayonnaise, coriander leaves and remaining lime juice.
7. Remove the chicken and cool.
8. Then cut into bite sized pieces, if desired.
9. Serve with the mayonnaise mixture.
Note: image is for illustration purposes only and not that of the actual recipe.
image credit