Chicken marinated in a sticky honey-soy sauce marinade and grilled. Ideal for a weeknight dinner or sunday brunch. Best served with rice or noodles.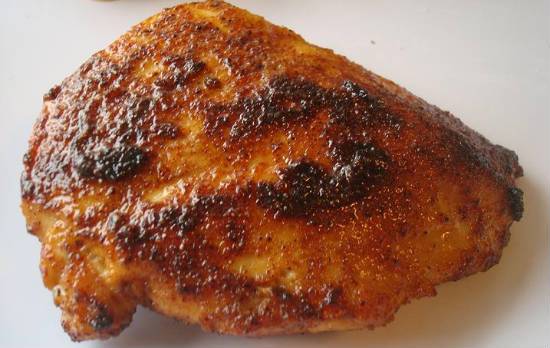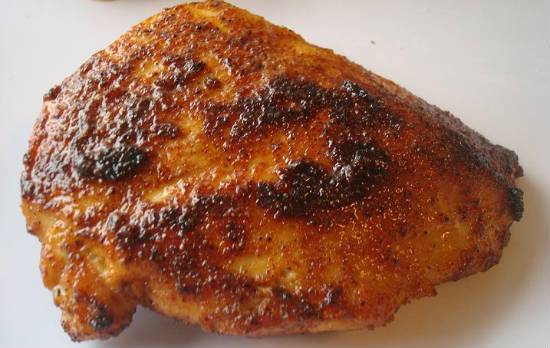 Ingredients:
Chicken Breast – 1, boneless, skinless, cut into medium pieces
Garam Masala Powder – 1/8 tsp (or Five Spice Powder)
Sesame Seeds – 3 tsp (optional)
For the Marinade:
Rice Vinegar – 1 tblsp
Honey – 2 tblsp
Garlic – 1 clove, finely chopped
Peanut Butter – 3 tsp
Soy Sauce – 3 tsp
Sesame Oil – 2 tsp
Sunflower Oil – 2 tsp
Red Chilli Flakes – 1 tsp
Ginger Powder – a pinch
Method:
1. Mix the vinegar, honey, peanut butter, soy sauce, sesame oil, sunflower oil, garlic, red chilli flakes and ginger powder.
2. Stir well until evenly mixed.
3. Place the chicken in a resealable bag and add the marinade.
4. Close the bag and shake well.
5. Place it in the fridge for 30 to 40 minutes, turning once or twice.
6. Remove the chicken from the bag and discard the marinade.
7. Sprinkle garam masala powder on top.
8. Heat a grill pan over medium flame.
9. Cook the chicken for 5 to 10 minutes or until done, turning once or twice.
10. Sprinkle sesame seeds on top.
11. Serve with rice or noodles.