This Portuguese style chicken drumsticks is inspired by a cookery show on TLC. A great meal for any occasion. Serve with salad, potato wedges and lemon wedges.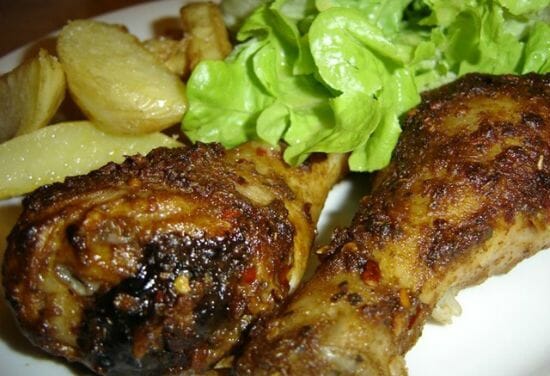 Ingredients:
Chicken Drumsticks – 5 to 6
Garlic – 2 cloves, small, crushed
Paprika – 1 1/2 tsp
Red Chilli Flakes – 1/2 tsp
Cumin Powder – 1/2 tsp
Dried Oregano – 2 to 3 tsp
Lemon Juice – 1 1/2 tsp
Extra Virgin Olive Oil – 2 tblsp
Brown Sugar – 1 1/2 tsp
Black Pepper Powder as per taste
Sea Salt as per taste
Method:
1. Combine the red chilli flakes, paprika, cumin powder and oregano in a bowl.
2. Add olive oil, lemon juice, brown sugar, pepper powder and salt.
3. Mix well.
4. Add crushed garlic and chicken drumsticks to the bowl.
5. Mix well until the drumsticks are evenly coated.
6. Transfer to a greased baking tray lined with parchment paper.
7. Place it in a preheated oven at 225C/450F for 20 to 22 minutes or until golden and cooked.
8. Serve with lemon wedges.