A delicious Portuguese style peri peri chicken burger ideal for a quick lunch, dinner or weekend party night.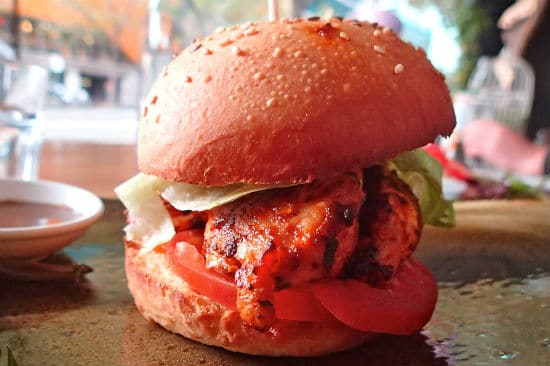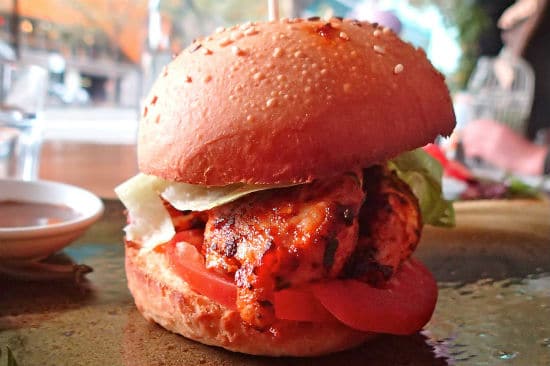 Ingredients:
Chicken Thigh Fillets – 2, trimmed
Plain Yogurt – 2 tblsp
Mayonnaise – 1/4 cup
Tomato – 1, sliced
Lettuce Leaves – few
Red Onions – 1, sliced
Red Chilli Powder – 3/4 tsp
Salt as per taste
Olive Oil – 1 tblsp
Burger Buns – 2, halved
For the Peri Peri Sauce:
Red Chilli – 1, large
Red Capsicum – 1, medium, chopped
Garlic – 2 to 3 cloves
Oil – 2 tblsp
Malt Vinegar – 2 tblsp
Red Chilli Powder – 3 tsp
Dried Oregano – 2 tsp
Onions – 1, small, chopped
Sugar – 1/3 tsp
Salt – 3/4 tsp
Black Pepper Powder – a pinch
Red Food Colour – few drops (optional)
Method:
1. Combine all the ingredients for the peri peri sauce in a mixer jar.
2. Blend them together until smooth.
3. Transfer half of the sauce to a re-sealable bag.
4. Add the chicken fillets and seal the bag.
5. Toss well until the chicken fillets are coated.
6. Keep the bag in the fridge for a few hours or overnight.
7. Combine 1/4 of the remaining sauce, yogurt and mayonnaise in a bowl.
8. Keep this in the fridge until required.
9. Heat olive oil in a pan over medium flame.
10. Remove the chicken from the bag, drain any excess marinade and add to the pan.
11. Cook for 3 to 5 minutes each side or until cooked through and browned.
12. Remove and transfer to a plate.
13. Place the burger buns on a flat surface.
14. Add the lettuce and tomato slices on one half.
15. Add the chicken, onions and spread a little of the sour cream mixture.
16. Drizzle some of the remaining peri peri sauce.
17. Cover with the other half.
18. Serve with potato wedges or fries.